Tomorrow marks the beginning of the second half of the 2017 UConn football season, and last week's semi-miraculous win over Temple — the Huskies were outgained by 230 yards! — was just the salve we all needed to feel good about what is, by every objective measure, a bad team.
The Huskies are 2-4 with six games to play, four of which they actually have a reasonable shot of winning (by the S&P ratings, UConn's remaining non-Florida opponents currently all rank 95th in the country or worse; 119th-ranked UConn has at least a 34% chance of winning in all four). The Huskies are very much on track to fulfill my Best-Realistic-Case Scenario dream of an Edsall Year Zero season, which was: winning four games and finding a bunch of freshmen (Darrian Beavers!) and sophomores (Matt Peart!) who could be the core of this program's next good team.
In last week's win, UConn's offense was the inverse of its normal self; the Huskies struggled to move the ball for the most part, but were quite good in the red zone (3 touchdowns and a missed field goal in 4 attempts) and on key downs (7-for-15 on 3rd). I'm happy to chalk that up to a good Temple defense, and hope that Rhett Lashlee will have things figured out against the lesser defenses they'll face in the next six weeks.
So, ahead of a Homecoming game against a Tulsa team that boasts a high-tempo, above-average offense, let's talk about that much-maligned defense.
After UConn gave up 70 points to Memphis two weeks ago, Randy Edsall gave a pointed statement that the players on his roster weren't recruited for Billy Crocker's 3-3-5 scheme, and that coaches and fans were just going to have to live with the mistakes until the current players either 1) figured things out through more repetitions or 2) were replaced by an Edsall/Crocker recruit.
- Advertisement -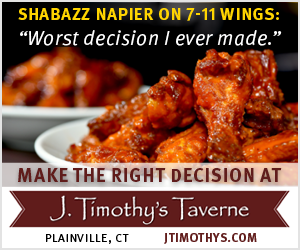 That comment touched off a "personnel vs. scheme" debate amongst the fanbase, with most of the blame seeming to fall on Crocker's 3-3-5 and his inability to adjust. Even after the defense's best performance of the season against Temple (the first FBS opponent they've held under 30 points and 6.0 yards per play), the numbers are terrifically bad, even worse than the disastrous 2016 defense. To use one telling metric: the Huskies gave up 7.7 yards per pass attempt last year; it's 8.3 this year. It bad.
But while it's easier to replace the coach than it is to replace the players, I fall on Edsall's side here. No scheme is perfect, but Crocker has a strong track record, and it's not the scheme missing tackles, getting pushed around in the trenches, or letting receivers run free 30 yards downfield. I can't entirely blame the scheme when the roster barely allows for a two-deep of the three-man front, when the pass rush from the linebackers has been so ineffective, and when the secondary is mostly freshmen and/or guys seeing their first action as college players.
The most frequent criticism of Crocker's 3-3-5 is that his corners and safeties will play very soft coverage, often lining up 10-15 yards off the ball, and as a result UConn gives up what feels like a million short throws that gain a frustrating amount of yardage. It's not fun to watch, and it's not my cup of tea, but it's also not a death sentence. Lots of teams, even very good defensive teams, give this kind of cushion.
However, if you're going to play a soft zone, you need to have fast corners and safeties who can quickly and decisively respond when they see a quarterback let go of a ball in their direction. And even if they get to the right spot, they need to be coordinated enough to either deflect the pass, deliver a big hit on a receiver, or make a tackle for a short gain.
And it's not exactly a huge margin between a good play and a bad play. Here's Jamar Summers (bottom of the screen), a legitimately good player, being a millisecond too slow in recognizing a hitch and giving up a 3rd-and-short against Memphis.
Over the first five games, pretty much every UConn defensive back was a step or two behind on short throws and looked consistently a step or two too slow on deep balls. When they did get in position to make a play, they weren't strong enough or fundamental enough to make a tackle and limit the gain. If you watch and rewatch these plays, it's hard to imagine what scheme could get UConn performing at a high level on defense.
The only way around that, unfortunately, is to upgrade, and that's gonna take time. A 3-3-5 makes sense given Edsall's success recruiting linebackers and defensive backs in his first run, and it makes even more considering the high-powered spread offenses UConn will play most weeks in the AAC. Crocker's version of it dominated at the FCS level, and he deserves a full opportunity to work his scheme with his own players. There are no quick fixes with UConn football.
All of that being said, against Temple, the defense…well, they weren't great, exactly, as Logan Marschi completed 60 percent of his passes for 356 yards. But at least, for the first time, you saw signs of life. Foley Fatukasi and Luke Carrezola were as disruptive as they've been all year. I really liked what I saw from LB Chris Britton.
And most importantly, you saw UConn defensive backs punishing a quarterback for making mistakes. That's an important thing! Because college QBs on random Group of 5 teams are going to make mistakes a lot!
Both turnovers UConn forced Saturday directly led to touchdowns, and they (along with some desperate late-game defending) are the reason the Huskies are 2-4. In both cases, a defensive back was a step faster than usual.
Jordan Swann's forced fumble, returned deep into Temple territory by Marshe Terry, happened in part because Marschi's bubble screen throw to Brodrick Yancy was behind him. Still, Swann's recognition of the play was on point, and look at how much ground he covers while Yancy spins around to go the right way:
Tyler Coyle's pick-six, on the other hand, is exactly the result that the soft zone scheme is designed for. Marschi decides to make a quick, but long, throw to the sidelines — the area that's left open pre-snap — and he kind of lollipops it over (or maybe it was tipped?). Coyle becomes what feels like the first UConn DB of 2017 to actually break on the ball while it's in the air.
It's a really nice, decisive play, and it turns out to be the game-winning points in a game that UConn had no business winning.
As the young players get more and more reps, and as Crocker figures out which players can handle their assignments, these kinds of plays should pop up more often.
And really, that's the formula for UConn to be in a position to win games. The overall numbers are going to look ugly at the end of the season, but if the defense can mitigate its play-to-play badness with a couple lightning bolts, that — along with some week-by-week improvement and the emergence of at least one reliable young impact player — might just be good enough to get by.