UConn opens its season tomorrow against Wagner, but we've gotten a sneak peak of the team at their two exhibition games against New Haven and Southern Connecticut. While the outcome of each was essentially a foregone conclusion, we did get the opportunity to see the new players – all five freshmen as well as transfer Terry Larrier – in action before they have to start playing games that count. We also got a first look at our returning players, and a chance to see how their offseason work has panned out.
So before Friday's home opener, I give you my first impressions of this UConn squad.
Terry Larrier is legit. This guy can just straight up ball. He's incredibly long (something Southern Coach and UConn royalty Scott Burrell noted is a feature of the entire lineup) and very athletic. He can shoot, he can rebound, he can handle the ball, he can work under the basket, he can defend, he can show off an impressive collection of tattoos (OK, that's not relevant, but whatevs). He looks to be starting at the 3, but when KO uses three guards (which he did regularly in both games) Larrier effortlessly transitions to the 4.
At one point, with three guards and Vance Jackson at the 4, Larrier actually moved to the 5. Granted, this was only feasible because New Haven was running an extremely small line-up, but it still demonstrated the versatility Larrier brings to UConn's offense.
Larrier can do everything. This was most noticeable on one series in which he yanked down a defensive rebound, took the ball all the way up the court, missed a basket, but got his own rebound for the tip-in. Oh, and did I mention he can shoot the three? Because he can shoot the three. Having such a versatile player really allows UConn to spread the floor and gives them so many options. He's going to be very important to the team this season.
The freshmen are really athletic and talented. The Top Five all bring something to the table, but I was most impressed by their collective athleticism. Alterique Gilbert, who will likely fill the freshman Kemba/Bazz role as the first player off the bench, is a great ball-handler. Really impressive for a freshman. He's also fast, athletic, strong and jumps like he's got springs in his shoes. Though he's another in long, distinguished line of undersized UConn guards, he more than makes up for it with his mature point play. He's got the drive and kick thing down, and oh yeah, he can shoot, too.Christian Vital, though only considered a three-star guard, impressed with his athleticism, as well. He's got quick feet and he's fast. I liked his on-ball defense a lot. Like, a lot a lot. Learn everything you can from Ricky Moore, is what I'm saying.
Vance Jackson's game is also a lot of fun. That kid's stroke is gorgeous. He's got a beautiful three-point shot, and he can rebound. Needs to work on his quickness, but if he could well turn into Slash Part II, and that would be delightful.
- Advertisement -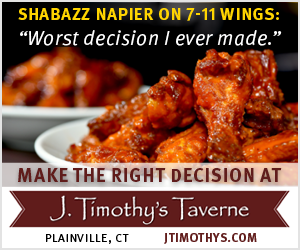 Juwan Durham is getting his legs back under him after missing nearly two years due to injury. He does have that normal-human-stretched-out look to him, but we already saw his fierce rebounding skills. He's got great athleticism, and he can shoot. He's also one of those big men that doesn't send you into fits of terror when he tries to handle the ball.
Mamadou Diarra only played against New Haven, missing the second game with knee soreness. He's definitely a work-in-progress, but another outstanding athlete. When he jumps he gets crazy high off the floor. He's likely a four-year player, so we'll get to enjoy his progress. KO really did an outstanding job putting this recruiting class together.
Purv is fit af. Damn, son. We heard that Purvis worked hard in the off-season on getting faster, and he managed to shave three minutes (THREE MINUTES) off his 5K time (he's looking very svelte). He's holy-shit-fast up the floor , and appears much stronger going to the hoop. Finishing lay-ups was an issue last year, and early returns are good.Also, just to remind you that Purv is great, one of my favorite moments was in the second game when UConn was on a fast break. Purv, of course, beat everyone up the floor with Larrier as the trail. Instead of taking the lay-up himself, he passed it off to Larrier who threw down a monster tomahawk dunk. Purv the best.

This team is really, really, really fun to watch. They're so fast in transition; KO is expecting 18 fast break points a game. They run, they jump, they dunk. Oops galore against Southern. KO showed us some full-court press and said he intends to use it more this season, basically making me the happiest girl in all the land.

Facey is taking it to the next level. Not ready to make senior-year-Hilton-Armstrong comparisons yet, but Facey looks much stronger and more in control. Keeping fouls down and improving on offense were the two keys for him, and, in this limited window, seem to be the areas where he made the greatest improvement. I'm crossing my fingers, but this could be huge.
Also, Steven Enoch looks like he worked really hard this off season. His positioning is better on defense and he's more effective on offensive. I particularly noticed improvement with his hands. He had a few catch and dunks that were very nice to see. He's also looked fitter and stronger. Fouls remain a problem, as I watched him just straight take dudes out a couple times, but he's just 19 and I'm patient.
We saw little of Brimah until the latter part of the Southern game. I'm not sure what to make of him yet, but I'm hoping Jalen Adams worked on lobs this off season, because when they were getting the ball to him down low, it worked very well.
Speaking of Adams, I saw a lot more maturity in his game. He looked very comfortable in the roll of starting PG, and from speaking to him, it's clear that he's a smart guy who understands his role on and off the court. I saw improvement in his handle and his shooting, which are both going to be key for him this season.
With a roster this young, I expect to see some growing pains, but with this much talent, and some great senior leadership, this team could really gel down the stretch and give everybody a run for their money.