There is little question that UConn looked like a much better team for at least part of their loss to Navy than they did at any point during their narrow victory over Maine. The fact that UConn was even in a position to have a game blown by a poor coaching decision  (or a series of poor coaching decisions) is, in an of itself, an improvement. But there's little solace to be had for those who saw how the entire complexion of the season, and maybe even the program, would have changed with a comeback win at Navy.
It's also worth noting that Bob Diaco is only in his third year as a head coach. But here's the thing: it's not the fact that the team was over-reliant on an unproductive power running attack again, particularly given the success they were having in the vertical passing game. It's not the blown timeout or the inexplicably bad play call at the end. It's that Diaco and co. seem to have taken no responsibility for, and learned absolutely nothing from the debacle.
"I don't have a great recollection of that last play selection," Diaco said, when asked about running Ron Johnson into the Navy defensive line three times in a row on the Huskies' prior possession.
So there's no recollection of the package not working earlier. Meaning there's no consideration given to it not working later. He claimed to be taking accountability after the game while seemingly blaming the Navy players for not lining up quickly enough and the refs for not stopping to review the previous play. He also invented a bizarre alternate reality where a pass attempt blew the game, and to top it off, appeared to not even know what down it was.
And that brings us back to why this loss is so frustrating. The team looked better. They certainly looked good enough to win the game. But unless Diaco can get his mistakes and the mistakes of his staff under control (remember the odd clock-management at the end of the first half in week one), the team's ceiling will be very limited. If he's not learning anything, are we going to go through this again next week against Virginia? Are we going to watch a team ineffectually play to its own weaknesses, with potential redemption dashed by a stubborn and disorganized coaching staff?
- Advertisement -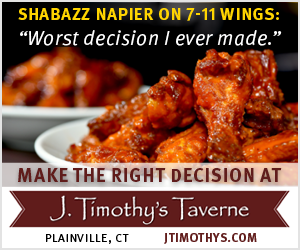 The next two games are crucial, because the schedule only gets harder from there. After two winnable games against Virginia and Syracuse, UConn faces games at Houston, against Cincinnati, and at South Florida, and would be more than satisfied to go 1-2 in that stretch. Blowing it against Navy stings because the margin of error for this team has dropped significantly, and to do so in such a winnable game is bad enough. Worse still would be to do it again next week. So let's hope the players aren't the only ones making progress.