The college basketball season has barely started, yet already, the nation is in a frenzy. College hoops has surpassed the NFL in terms of popularity. NBA ticket sales have plummeted as fans from across the country flock to college campuses instead. Yes, the plan is working. The new "freedom of motion" rules, instituted this season by the NCAA, have catapulted scoring so high that the fans who abandoned college basketball 15 years ago have returned for those sweet, sweet free throws. Offense!
You're probably reading this, thinking, "but I thought the popularity of the college game eroded when they shit on the very notion of amateur athletics, as the universities and NCAA officials figured out how to get exceedingly rich and the student-athletes figured out that only half of that hyphenated term truly matters now."
You may be hearing breathless reports about how calling more fouls will spur offensive production, similar to the NBA game that has been rejuvenated in the public eye and thinking, "but I thought the offensive differences were caused by a game that is eight minutes shorter but a shot clock that is 11 seconds longer. I thought perhaps that collegiate players who don't stay on campus may just not develop quickly enough to lead a true offensive renaissance. Perhaps coaches fleeing for better opportunities and leaving the players they recruited to start over might hamper offensive development. And maybe playing a 30-game season instead of an 82-game season means that you can afford to expend your energy playing defense, where you don't need to save your body for tomorrow night's game."
You would be wrong.
Look no further than the early returns from UConn's first two games. The Huskies averaged 16.2 fouls-per-game last season. They notched 22 in a win against Maryland, followed by 23 against Yale on Monday. Last year's squad topped 22 fouls only three times in a 30-game season.
- Advertisement -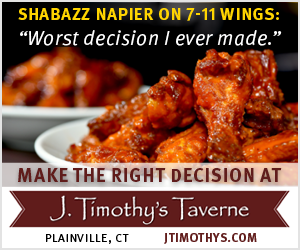 Late against Maryland, when Shabazz Napier — UConn's best player — picked up his forth foul, hit the bench as the Huskies struggled to score and returned only to foul out, that was exciting. Sure, the only points UConn would score during the last 4:48 of the game (when Napier was called for number four) were on a three-pointer by third-string center Tyler Olander, but that just adds to the intrigue. The viewers at home tuned in because they wanted to watch the game in the hands of the tenth player in the rotation as the star players either ran around trying not to touch each other or were strapped to the bench in foul trouble.
In the first half against Yale, Ryan Boatright, DeAndre Daniels Niels Giffey, and Phil Nolan each picked up two fouls and were forced to sit. Boatright and Daniels are two of the team's best scorers, Giffey was 5-5 on three-point attempts at the time, and Phil Nolan was the starting center. The surest way to increase offense in the college game is to ensure that four of the best seven players on any roster are forced to sit.
The success isn't limited to UConn. On Tuesday night in Columbus, Ohio St. thrilled the crowd by attempting 51 free throws. Sure, they only attempted 44 shots from the floor, but that's just smart marketing. Chicks dig the charity stripe. Their opponent, Ohio, showed championship potential of their own, being whistled for 34 fouls.
Not to be outdone, Seton Hall and Niagra combined to attempt 102 free throws in their November 9th matchup. The referees are expected to be in high demand, calling a total of 73 fouls in the game.
Yes, we have turned a corner in college hoops. Last season, Morehead St. led the nation averaging 24.7 fouls-per-game. Pathetic.
Although it's still early, 57 teams are currently ahead of that pace.
NCAA administrators should be lauded for their leadership in addressing the only real problem facing college basketball. No not academics, or financial inequality, or outdated recruiting practices, or NBA prospects treating college campuses like a bus stop on their way to the league, or coaches abandoning their players on a whim for a better opportunity. Offense! Enjoy this season, fans. For we are truly witnessing a revolutionary moment that will change the way college basketball is played.