Fresh off its best 30 minutes of football all season, en route to a win over a team that UConn never beats (Cincinnati), UConn faces another team it never beats Saturday night in Tampa.
The Huskies are at USF in a game that they aren't expected to win, but a game that would bear a magnificent prize if they do: it would put UConn over .500 with five winnable games to go, which would set up a legitimately exciting second half of the season. Beating USF would also be a terrific start for a four-game run of games against the East Division, the AAC's weaker half, and [low whisper voice] it'd be a big step towards maybe possibly potentially being in the division title race.
In any event, UConn and USF have played nine straight one-score games in one of the low key actual rivalries in this godforsaken league.
UConn won on a last-second field goal in 2009, won games in 2010 and 2011 without scoring an offensive touchdown (2010 being, of course, the famous Dave Teggart Fiesta Bowl kick), before USF won a pair of low-scoring slogs in 2012 and 2013.
The two Bob Diaco-era UConn-USF games have been on the ridiculous side: the 2014 game, a 17-14 UConn loss, was arguably the most conservative football game ever called by any coaching staff, as the Huskies threw the ball three times total in the first three quarters because throwing the ball in the rain is punishable by death in several parts of the universe, including Diaco's home planet.
- Advertisement -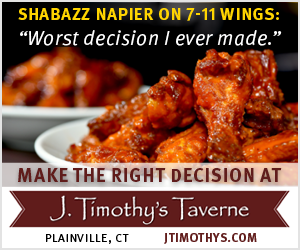 The 2015 game saw UConn's best offensive performance of that year, a 500-yard day that nevertheless ended with a 28-20 loss when the Huskies couldn't capitalize on numerous early drives into USF's half of the field.
The Bulls are a legitimately good team, and QB Quinton Jackson is a prolific beast who is probably the second-best football player on UConn's schedule this year.
But at the very least, the Huskies face a not-unpossible task of halting USF's four-game series win streak, as they are coming off their most encouraging performance of the season, completely dominating the final 30 minutes against a Cincinnati program that has had their number since joining the Big East in 2005.
The best offensive line performance of the season allowed UConn to exceed to the magic 4.0-yard-per-carry barrier, because evidently having your preseason starters healthy matters. They gave Arkeel Newsome room to keep Bryant Shirreffs upright with time to throw, and Shirreffs responded. It was extremely encouraging, so much so that we're now starting to close in on "Gripe about all of these good drives ending in field goals" territory. Big time!
Meanwhile, Diaco's defensive wrinkle of shifting Jamar Summers to safety worked well, aided by the defensive front seven totally dominating (aided by some really poor throws and stone hands on Cincinnati's part).
The win over Cincy was so crucial to everything UConn wants to accomplish this year, as I've mentioned before. It also marks the exact halfway point of the 2016 (regular) season, and so it seems like a good time to take stock in what we've learned so far. To do so (and also because I want to own that one teacher who gave me a C-minus in high school) let's give out letter grades to each of the Huskies' various units, based on their performance relative to our 2016 expectations.
Quarterback: C-
Shirreffs hasn't been truly bad, but he's been more than a little disappointing. I thought he would be markedly better as a junior than he was as a sophomore, but it just hasn't happened. His numbers are almost identical to last year's, which makes him a decent college quarterback, but it's certainly not the leap forward we were hoping for.
Shirreffs runs the ball too dang much; as a thrower, he's had flashes of goodness (the entire Navy game), flashes of badness (badly overthrowing Noel Thomas twice against Houston, the first 29:00 of the Cincinnati game) and flashes of mehness (almost everything else). Maybe something clicks if the offensive line is marginally improved the second half of the season?
Running back: C
Newsome finally had some holes to run through last weekend, but it's been a tough slog all year for he and Ron Johnson. I think it's clear by now that neither back is on the level of some of the great runners to play for UConn this millennium, but both can be productive with the right supporting cast.
Offensive line: D+
It'd be a D- or worse but for last weekend, as we finally got to see a full game with the preseason starting line. Still, the lack of progress here is the single biggest impediment to UConn being a productive offense – it's a big, strong unit, but they're very slow. Their play has meant that Shirreffs has been looking to run the ball before he finishes every three-step drop, and that the running backs are running into large dudes near the line of scrimmage consistently. There's still time for redemption, though…
Wide receivers: A+ (Noel Thomas), D (everyone else)
If we consider Noel Thomas as Exhibit A of Bob Diaco learning lessons as a coach – remember when Geremy Davis wasn't on the field on 3rd downs in Diaco's first season? – then there's reason to have hope for the future. Thomas is simply the best offensive player UConn has had since Jordan Todman, and it's a joy to watch him work. He's well on pace to become UConn's first ever 100-catch receiver, and he's got a shot at the school single-season yardage record, especially if the Huskies manage to make it to a bowl game.
The D grade for everyone else isn't necessarily their fault; other than Hergy Mayala, Shirreffs really hasn't even targeted any other receivers. Tyraiq Beals made potentially the play of the season right before halftime against Cincinnati, and it would be nice to see him incorporated more into the offense.
Tight ends: N/A
Like Frank Verducci, I forget UConn has tight ends for weeks at a time. Tyler Davis has been fine and looks like he's going to be a keeper. Alec Bloom and Tommy Myers have been productive on the rare occasions they touch the ball, although neither has been a superlative blocker (Myers in particular), which might explain why their snaps are limited.
Defensive Line: B
Not many complaints here. Foley Fatukasi and Mikal Myers have been excellent run stoppers, and the 22-carry, 1-yard rushing effort by Cincinnati underscores how solid the whole front seven has been. Ends Cole Ormsby and Luke Carrezola have been OK, although they have not pressured the quarterback as much as hoped, which is at least partially responsible for the struggles of the secondary.
Linebackers: B+
We expected this group to be good and deep, and they've lived up to it. Vontae Diggs (3.5 TFL) and EJ Levenberry (2 sacks) have been disruptive, and both should be great assets for the next year and a half. Junior Joseph has been as advertised, and Matt Walsh is going to make a terrific New England Patriot next year.
Secondary: C-/incomplete
The issues here have been well-documented, as UConn had been poor at defending the pass all season before Diaco finally figured out the best way to get his four best defensive backs on the field. It was clear that UConn's interception rate of last season was unsustainable (Obi Melifonwu's pick against Cincinnati was just the second of the season; Jamar Summers by himself had nine last year), but I didn't think the bottom would fall out so quickly.
Structurally, the combination of a below-average pass rush and the softest corner coverage in Division I has hurt this unit greatly. You can't give a quarterback a clean pocket and receivers room to move and expect to stop the pass; I do wish Diaco would give his good corners a little more credit.
That being said, it's clear that UConn's corner depth is greater than its safety depth, so sliding Summers over to safety and taking the pressure off of first-year contributors Anthony Watkins and Brice McCallister on Saturday was a smart adjustment. Jhavon Williams and John Green are adequate, and Summers and Melifonwu are a legitimately well-rounded, above-average safety tandem. It's very possible this group can improve a lot with this shift.
Special Teams: B+
Heisman Trophy finalist Justin Wain has been awesome at punting, Bobby Puyol has been (almost) automatic, and it's been so nice to have one of those seasons where you don't worry about your kicker and punter being #CollegeKickers and #CollegePunters. Gonna miss those guys after this year.
The kick and punt coverage has been fine. Kick returns are, um, somewhere below average, and the best things I can say about the punt return unit is that 1) they've done two of the punt things and 2) they're not ranked last in punt return yardage this year, which I believe is what the guy who wrote the Jeffersons' theme song referred to as "moving on up."
Coaching: C+
That's a big improvement from where we were after the Syracuse loss, by the way.
Yes, Diaco has been too conservative, and yes, it turns out that three years of a real strength and conditioning program doesn't transform a bad team into a top-60 team. And yes, UConn should be 4-2 at this point but for one of the worst clock management decisions you'll ever find.
Still mad.
But to his credit, Diaco and his staff have been responsive to things that don't work and have tried to address them. They've been willing to make adjustments – whether it be in-game (most notably, holding Syracuse to three points over three quarters after an awful start), or in terms of overall strategy (the secondary switch, plus the shift to more of a spread look on offense), or in play-calling (there has been a noticeable difference in opening things up the past two games; there have been plays to be made that haven't been executed, which is at least not a coaching problem).
Diaco is far from a perfect coach, but even in a sometimes-hard-to-watch first half of the season (and one in which almost all of the preseason buzz around this program dissipated, not unfairly), UConn was in position to win two of its three losses. Once it gets through Saturday night it will have played the three toughest opponents it will play this season.
After the Cincinnati win, UConn is 3-3 heading into a mid-October game against USF for the second straight year, so despite all the frustration and bad luck and that stupid call against Navy, the program has decidedly not taken a step back.
The Huskies are still in a position to do some things over these next six or seven games. We can quibble with how they've got here – and oh, will we ever quibble – but there's still reason to believe the future is bright, win or lose Saturday night.
Coaching wardrobe: A++
cranberry pants tho