It's the Friday before UConn's season-defining win over Villanova. Let us mailbag.
Remember: If your question wasn't answered or you've been living under a rock and are just hearing about this, you can submit your questions here or on Twitter (@ADimeBack).
---
Jeff asks: Draft a realistic [schedule] of UConn as a football independent for 2019, 2020 and 2021.
So: scheduling as an FBS independent is basically impossible unless you have the cache of a Notre Dame or Army. UConn basically can't accomplish the goals of 1) playing six or more home games and 2) playing competitive teams that might draw recruits.
Meanwhile, most of the Power 5 have already filled out their schedules at least through 2020, meaning the pool of teams to draw from is fairly small. There will be more independents than usual for the next couple years, since Liberty and New Mexico State are dropping down to join Army, BYU, UMass and Notre Dame, so that will help a bit. You can expect to see those names (minus Notre Dame) regularly on any independent UConn schedule.
- Advertisement -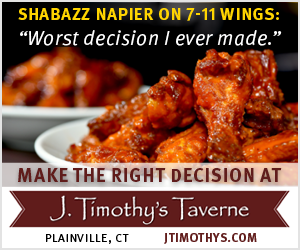 For this exercise, we will assume that any already-scheduled games against Power 5 opponents in 2019-21 won't be bought out. Given that, you're probably looking at schedules that look, best-case, something like this (games already on UConn's future schedules are italicized; thanks to fbschedules.com for their help in locating schools with open dates):
*2019*
Home (6): Wagner, Illinois, Army, Liberty, Coastal Carolina, Akron
Away (6): Indiana, UMass, BYU, Miami (FL), New Mexico State, Florida
*2020*
Home (6): Indiana, UMass, Maine, Louisiana Tech, Buffalo, New Mexico State
Away (6): Illinois, Temple, Cincinnati, Penn State, Liberty, Army, Tennessee
*2021*
Home (5): Holy Cross, Temple, Liberty, Army, Kent State
Away (7): Clemson, UMass, Michigan State, Louisiana Tech, Buffalo, Old Dominion, Florida Atlantic
The 1-for-1s in here that would have to be scheduled include Temple, Army, Liberty, New Mexico State, Louisiana Tech and Buffalo. UConn would be taking paychecks to visit Penn State, Tennessee, Clemson and Michigan State. Teams like Cincinnati and FAU could probably be either 1-for-1s or 2-for-1s.
It's not pretty, but that's pretty much what you can expect, assuming UConn football remains a downtrodden program. Getting a couple million per year in paychecks from Power 5 schools might make up for it, but the viability of the program as an independent is, I think, very much in question.
---
Kyle asks: isn't it nice, as a uconn men's basketball fan in 2018, to focus on the development of shabazz napier and nothing else?
Watching Shabazz turn into a legit NBA player has been an absolute delight. After stops in Miami and Orlando, Bazz has really turned it on in Portland. He got some extra minutes stepping in for Damian Lillard, and really proved himself. We have it on good authority that Shabazz is the man. Look at this shit:
:no_entry_sign::eyes::no_entry_sign::eyes::no_entry_sign::eyes::no_entry_sign: pic.twitter.com/W0zJyeF8Oc

— Trail Blazers (@trailblazers) January 17, 2018
:man_dancing::skin-tone-2::dancer::skin-tone-2: MAKE 'EM DANCE, BAZZ :dancer::skin-tone-2::man_dancing::skin-tone-2: pic.twitter.com/TEWC2dlXxR

— Trail Blazers (@trailblazers) January 17, 2018
We're out of words to describe @ShabazzNapier. pic.twitter.com/ONO2fXxkHQ

— Trail Blazers (@trailblazers) January 8, 2018
Over 39 games this season, Shabazz is averaging over 21 minutes per game. In that time, he's scoring 10.1 ppg on 47.8 percent shooting from the floor, including 43.4 percent from three. He's averaging 2.4 assists and the same number of rebounds, with only 1.3 turnovers. Those are some nice numbers and at a great time, because he'll be a restricted free agent after this season. It's unclear if Portland will pony up the cash to keep him as a back-up point guard when there's likely to be a team willing to pay him to start. Honestly, couldn't be happening to a better guy.
But wait, there's another former UConn point guard in the NBA we can also root for. The Hornets have just announced that Kemba Walker is available for trade, and while that's definitely a bummer for him, it could mean a move to a winning team. Celtics fans in a tizzy on Twitter should remember that they already have a point guard and also that they are not allowed to have any more UConn players after the way they treated Ray Allen. Celtics fans do not deserve Kemba. While there's a certain appeal to him playing for the Knicks (Kemba in MSG? I'm about it) if for no other reasons than nostalgia and because I would definitely haul my cookies to NYC to watch Kemba in the Garden, I'm not sure I want to stick Kemba with the Knicks who are basically the anti-Midas basketball organization. An enticing rumor, on the other hand, is Kemba to the Spurs. Kemba playing for Popovich is basically a best-case scenario for him. Pop would turn him into a HOFer and that's a team that could really win some games. So Kemba to the Spurs, is what I'm saying. Oh, and take JLamb with you.
---
LES asks: how do you think UConn can better promote the baseball team given that they're projected to be really, really good this year
Livestream every game on Twitter. (I don't know if it's possible to do this for road games, but eh, do it anyway.) UConn baseball had its last golden age a year or two after I graduated, and while I could keep track by following live stats or listening to WHUS (and most of the postseason games were available on TV or stream), it's just hard to develop any lasting affection to a baseball team without spending time watching them and getting to know them. And since all of us are basically killing our workdays on Twitter, why not let me watch UConn beat Bryant 17-2 on a random Tuesday afternoon?
I would also suggest that UConn try to get select games broadcast on SNY, which to my knowledge does not otherwise broadcast baseball.
— Kevin
---
Penfield asks: how many beers should a person drink prior to a noon game vs Villanova?
However many will cause a sweet, sweet blackout because I can't imagine we're going to want to remember this game ever, ever again.
— Meghan
---
Banner asks: Late request: if UConn had one of those wacky skyline court designs, what would you make it look like?
Like this.
---
Kevin asks: how much better would UConn be if Emeka Okafor is in the starting lineup, tomorrow, as his current self.
Assuming he can stay relatively healthy for a 30-game season (no given), the answer is: much better. Okafor is averaging seven and seven in the G League this season — five years removed from his last NBA game. He's still a great rebounder even if injuries and time (he's 35 now!) have stolen most of his quickness. He'd instantly become UConn's best interior player, its smartest player and its player with the fewest career losses to Tulsa. If you gave Large Dave's roster spot to Okafor, I think you'd turn a 16-15 UConn team into a 22-9 UConn team.
— Tyler