A mailbag two weeks in a row?! Just when they said U-can't…
Remember: If your question wasn't answered or you've been living under a rock and are just hearing about this, you can submit your questions here or on Twitter (@ADimeBack).
---
In response to Meghan tweeting that UConn should add lacrosse…
Storrs South asks: Would love this but 2 questions: 1) how much will it cost an AD short on cash? 2) what women's sport would be added for Title IX offset?
Excellent question, Storrs South. I consulted with Peter, the resident ADB Lax Expert (and former member of the UConn club lacrosse team), to answer your question.
- Advertisement -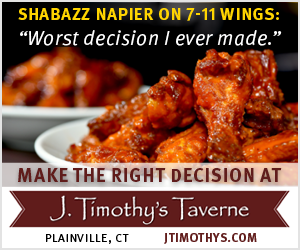 There are lot of factors here. The most recent data we could find for UMass lax had them spending about $600k on lacrosse in 2011-12. We figure $750k would be a safe bet, including scholarships, coaching staff, etc. (Maryland, which is one of the best programs in the country, just hired a coach for $150k per year.)
They'd probably be able to join the Big East without issue, which means easy scheduling and limited travel. Even if they didn't, there are four other D1 schools in Connecticut, three in Rhode Island, and three in Massachusetts, etc. So travel costs would be very manageable, and they wouldn't have to go crazy re: their recruiting budget because they could do so much in the state.
Connecticut already produces some of the best lacrosse prospects in the country, so actually building the team would be a cinch. There are lots of rich people in Fairfield County sending their kids to very expensive CT prep schools who should be willing to fund the annual expenses of the program to create more in-state scholarship opportunities for their heirs.
UConn currently has a (very good) club lacrosse team. As for facilities, the women's lax team plays on turf at the Sherman Family Complex, but we're about to build a new Morrone Stadium, and since Joe coached both lacrosse and soccer, it seems pretty fitting to play there if we want the team on grass.
As for an offset, that's much tougher. We can add a team (gymnastics jumps to mind, or the reader suggestion of women's water polo, shout Chris Licata) but that's another expenditure. We could also add scholarships in swimming and rowing to meet the Title IX requirements. The other option is dropping a men's sport (like golf, for example) but that's definitely not ideal.
I would like to point out that UConn actually had a D1 men's lacrosse team until the 1980s. (BardDad was recruited out of high school and played at UConn in the 1970s.) We actually do have a history with this sport, and it would be very easy to be good very quickly given our in-state resources. Marquette won the Big East conference tourney this year, and they've had a program for like five minutes, so we could be competitive in that conference right quick. Also, lacrosse is a blast to watch, and I think we'd all like having another good, fun team to enjoy. And adding spring sports content can't hurt if the winds of conference realignment pick up again. The ACC and the B1G are home to a bevy of outstanding lacrosse programs, so it would be a great addition to UConn's resume.
---
Don asks: w/the new Olympic event of 3v3 hoops – have staff members "draft" their UCMB 3v3 teams.
No. Ain't no one got time for drafts for a mailbag. Don't you know these are our low-effort posts?
I polled the ADB staff and the consensus seemed to land on Kemba Walker, Ray Allen and Donyell Marshall at their collegiate peaks. Remember, in a 3-on-3 game, you get one point for a traditional two-point shot and two points for a traditional three — rendering long-range shooting even more valuable than in a standard 5-on-5 affair. Hence, Ray Allen seems like a no-brainer.
Kemba is near unguardable in this format. You could make a case for a slightly better shooter (Shabazz Napier), or a guard with more size who can still handle the point (Ben Gordon), but I'll stick with the King.
Marshall seems to fit the game well because he can contribute on both ends and match up against any of the biggest players on opposing rosters. He can knock down threes, block shots, get to the rim and even handle the ball a little. There was a brief consideration of Charlie Villanueva for this spot for most of those same reasons but his skill set is essentially a lesser version of Marshall's.
Depending on your strategy, you might opt to go with Emeka Okafor instead. He'd get you improved rebounding and (obviously) shot-blocking. His offensive game, anchored to the low block, doesn't give you a ton of versatility, however. On the other extreme, you could go with Rudy Gay, a freak athlete who could do some serious damage with all of the open space allowed with pared down rosters. I'd still take Marshall though, and the extra size and rebounding ability.
Send your complaints about this answer to Russ.
---
Ian asks: How crucial is the Nova series for reestablishing ourselves as a top 25 team?
It certainly can't hurt to go up against the Big East's only consistently elite program a few times. UConn hasn't taken many big scalps in non-conference games the last couple years, and with Villanova looking like they will remain loaded for at least the duration of this three-year series, it presents a major opportunity for rebuilding the program's prestige. Quite simply, if UConn beats Villanova in any of the next three seasons, it will mean UConn is good at the basketballs once again.
Looking at the larger picture, during a period of time when half the roster is transferring out, KO seems unable to get high-rated recruits in, and the program feels like it's in turmoil, UConn's non-conference scheduling is one of the few signs of life that we can cling to. The program still has enough cache that it can pluck out top teams for home-and-home series (Arizona), it hasn't had any problem getting into the top early-season tournaments (PK80, Maui), and it's been able to book games in Madison Square Garden on a yearly basis. And frankly, I think I speak for most of the fanbase when I say we want UConn to play as many games against former Big East rivals and/or in MSG as is feasible each season, so good job on that front.
But yeah, we should probably consider winning a few of these games, and also not losing to Northeastern and Wagner, sooner than later.
---
Penfield asks: how does the twitter redesign make you feel?
I'm sure I'll come a-round.