After a prolonged break because you didn't ask any good questions, the A Dime Back Mailbag is back. Today we're addressing hypothetical coaches, reasons for optimism and the necessity of the Jay-Z/Linkin Park collab. Let's mail.
Remember: If your question wasn't answered or you've been living under a rock and are just hearing about this, you can submit your questions here or on Twitter (@ADimeBack).
---
Trill Daddy Vape asks: If you had to pick one former UConn player to take over for Ollie, who would it be? Catch is they can't have played 3+ years in the NBA.
Dear Mr. Daddy Vape, the catch here is irrelevant because the answer is Steve Pikiell. In fact, if Kevin Ollie resigned tomorrow (please don't, KO), Pikiell would be the best, most realistic option to replace him. Sure, we'd throw out names like Gregg Marshall, or whoever the cool kids like now, but he's not going anywhere and Pikiell is the perfect fit. He built the Stony Brook program into a consistent America East power. Then, in one season at Rutger, he made Scarlet Knights not hilarious. No UConn alum, especially one who did not play three years in the NBA, has had close to the coaching success that Pikiell has had. Sorry, Glen Miller.
---
- Advertisement -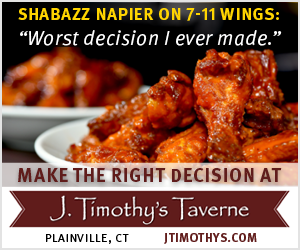 Big Ron asks via email: The last seven months have sucked. The season sucked, the injuries sucked, the transfers sucked, the recruiting misses sucked.  Given that, am I crazy to be optimistic about next year?  Larrier and Gilbert each probably offer us more than any of the kids we missed in Spring recruiting could have, Vital was coming on, we still have Jalen, and everyone's expectations are in the toilet.  Plus, we might get Italian Kemba. This should be a tournament team. Please tell me I'm not crazy.
You're well within your right to be optimistic. As you accurately stated, when healthy both Terry Larrier and Alterique Gilbert are better than anyone who's leaving the roster. Historically, UConn's guards have taken a leap in their junior season and Jalen Adams could very well blossom into the type of player who can contend for conference player of the year. Italian Kemba — temporarily known as Italian recruit Davide Moretti — could show up and make Husky fans forget all about Makai Ashton-Langford and Tremont Waters. Christian Vital could become the 40 percent three-point shooter the team needs to stop opponents from tormenting them with zone defense all season (Vital shot 39 percent in conference, for what it's worth). If all — or even most — of those things happen, UConn will be a tournament team and likely a pretty good one.
However, that scenario depends on a lot of good things happening in concurrence and, given recent history, I'm having trouble harnessing Big Ron's optimism. Here are my fears, more or less in order:
Gilbert and/or Larrier can't stay healthy. Larrier's knee injury seems fluky enough to be written off, though I do wonder how long it will take him to round into form given that by opening day he'll have played four (4) basketball games in the last 968 days. Gilbert's shoulder maladies are genuinely terrifying. This team really needs his ball-handling and play-making abilities on the court. The best thing to root for is good health.
Can the team field a tournament-quality front court? Larrier seems destined to play the four a good portion of the time, and that's probably the right move. The candidates for the starting center job can best be described as question marks. Similarly, the order in which the bigs cycle off the bench is unknown and presumably very fluid. Eric Cobb seems to have poll position at the top of the depth chart. He's the largest of the quasi-large humans but didn't exactly light the world on fire in 2016 while playing against real basketball players at South Carolina. UConn has won national championships with Tyler Olander and Phil Nolan starting at center, so there is a formula here but it depends on either Jalen Adams becoming Kembazz Redux or some badass outside shooting to counteract rebounding issues. Which brings me to my next concern.
There's no badass outside shooting. Even if Vital blossoms into 2000 Albert Mouring, it won't be enough to keep opposing defenses honest. One of Adams, Larrier or Gilbert is going to have to be a consistent threat alongside him.
Far be it from me to question Kevin Ollie's defensive schemes. Team defense has been — by far — the best trait of his UConn rosters, but I am curious and concerned about how the defense reacts to losing the security blanket of Amida Brimah. Having an imposing shot blocker in the paint covered up a lot of defensive miscues the last four years. Without that skill discernibly present on the roster, and a continuing concern about rebounding, UConn will need to make a lot of adjustments, which Ollie is famously slow to do.
Other than that though, I'm pretty optimistic.
---
Kyle asks: Thoughts on Jay Z's collaborative ep with Linkin Park "Collision Course"
As a former Focus (or I guess it's called Life now? That's better actually) DCer, I am the most qualified to answer this question (not really). Look, unless you're 15 and it's 2003 and you're really mad about Iraq, there's no reason to be about Linkin Park. (And, really, not even then, because Linkin Park is trash.) Numb/Encore is just a good Jay Z song made less good. And why bother with this record, when there's a far, far superior Jay Z mashup you could be listening to? The Grey Album, the Danger Mouse mash-up of Jay Z's Black Album (GOAT Hova imo) and The Beatles White Album. It was dope then. It's dope now. Listen to the Grey Album instead. You are welcome.