We hope you enjoyed #MailWeek here at ADB. Or not, whatever. Let's close this thang out with the regular ole Friday bag, babby.
Remember: If your question wasn't answered or you've been living under a rock and are just hearing about this, you can submit your questions here or on Twitter (@ADimeBack).
---
Jon asks: Which UConn player/coach (current or former) would make the best POTUS? And who would his/her VP be?
We have absolutely debated this before as a staff but evidence of the conversation has long since disappeared (podcast segment that got cut is our best guess). Our two best suggestions at the time — nominated for intellectual aptitude, poise and height — were Perfect Human Rebecca Lobo and Emeka Okafor. Since then, however, we've seen former UConn great Ray Allen jump headfirst into the political fray. Ray's instagram account now shouts his views on everything from immigration law to American history. He is an occasional golf buddy of former president Barack Obama, and was appointed to serve on the Holocaust Memorial Council (#yesmyrealnameiswalter).
Another new contender is young Gabby Williams who is deeply political, well-read and just plain woke as fuck. Like Okafor (34), Williams is still too young to seek the presidency, however. Leaving us with a Lobo-Allen ticket. This isn't even a joke. Where do we send money?
- Advertisement -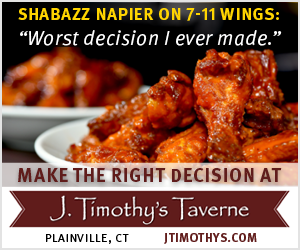 Here is a list of the UConn men's players with the most presidential names:
Jalen ADAMS
Bill MADISON (1959-61)
Vance JACKSON
EJ HARRISON (98-99)
Edward HARRISON (73-74)
TYLER Olander (11-15)
Bill TAYLOR (83)
Robert TAYLOR (70-71)
Donald GRANT (46)
Mike HAYES (02-03)
ARTHUR Galaise (50)
ARTHUR Fisher (46-50)
Earl WILSON (73-75)
Lee Otis WILSON (75-76)
Peter COOLIDGE (84)
Bonus:  Jim CALHOUN
---
Hall asks: Out of the 3 seniors on MBB, who has the brightest future in the pros?
Barring some very cool surprises, immediate NBA opportunities don't appear to be forthcoming for Amida Brimah, Kentan Facey or Rodney Purvis. The earning potential for each will likely depend on their willingness to play overseas. The salary for a player in the NBA D-League is anticipated to rise in the new collective bargaining agreement to $50,000 – $75,000 per season, depending on the player's status, skyrocketing from its current high of $26,000 (what Daniel Hamilton is likely making this year). Still, in the grand scheme of professional basketball, that's not a whole lot of money. Many recent college products still choose that route because of the D-League's relationship with the NBA, the comfort of starting their careers in the U.S. and the boundless optimism that makes them believe it will be temporary before their ascent to stardom.
For the Husky trio, a quick move to Italy, Israel, Russia, Turkey or China should lead to much greater pay. Foreign teams love to bring in college players from name brand institutions. Immediate $100,000 per year payouts are not out of the question.
Of the three, I think Brimah has the highest likelihood of finding himself selected in the second round of the draft. He has one pro-ready skill (shot blocking) and a solid work ethic that could entice an NBA team to take a shot on him. But that will more than likely result in him starting in the D-League or, like DeAndre Daniels, playing on a foreign club approved by the NBA team who owns his draft rights.
If that's the case, Purvis and Facey will be able to start earning big checks faster. I think Purvis has the game better suited for a long international career, but who knows. Facey has shown a greatly improved skill set this year and developing a decent mid-to-long-range jumper could make him very attractive overseas.
A final wrinkle: Purvis has shown an aptitude for selling UConn to prospective recruits and an interest in the game off the court. If he were to pursue a coaching career, there's money to be made there as well. UConn's assistant coaches make between $160k (Freeman) to $278k (Miller) per year.
– Tyler
---
Hall asks: What needs to be done on both offense and defense to stop Cincy tomorrow? Who needs to step up and play well?
I, uh, hate to break it to you, but UConn is probably going to lose pretty badly tomorrow. Cincy is actually scoring points this season. Like, kind of a lot of them. They're scoring about 78 points a game to UConn's 67. So don't expect it to be one of those painful 63-59 finals. It's going to be painful, but in a very different way. And with Steve Enoch and Juwan Durham still questionable, UConn could be playing six scholarship players against the 14th ranked team in the country. So, yeah, tomorrow could get ugly.
That said, we play the games for a reason, and if I were KO, I'd start the game by pressing the shit out of Cincy, hoping to get them out of their offensive flow and maybe cause some turnovers (something Cincy doesn't do a whole lot of). Keep mixing up the zone/man D as he's done to great effect this season. Brimah and Facey need to stay on the court (DON'T FOUL THEM), and UConn needs to get them the ball down low. Jalen Adams has to play out of his mind, and channel his Kemba/Shabazz forefathers. If Vance and Vital can get their threes to fall, Adams penetrating for the kick out could be a thing that works, too. But really, I hope you've all got a fully stocked liquor cabinet. You're going to need it.