Before we get started talking about UConn's defense, here's something pretty to look at (NSFW):
Oh, man, look at that beauty. Houston hadn't scored fewer than 33 points in a game when they came to East Hartford last year. They left having scored 10 points and only crossing the UConn 40 twice, turning the ball over four times. Now, yes, the game was only close because one of the teams was missing its starting quarterback, but in fairness you have to remember that Greg Ward Jr. only a played a little bit, too.
That game had so many wonderful things fall UConn's way. The offense produced two legitimate 70-yard touchdown drives and otherwise won the battle of field position; its opponent always seemed to come up with a hilarious penalty at the most inopportune time (Houston had a first down called back by a leg whip?).
And, crucially, UConn's defense that day did the two specific things that it did very well last year: prevent big plays and force turnovers.
- Advertisement -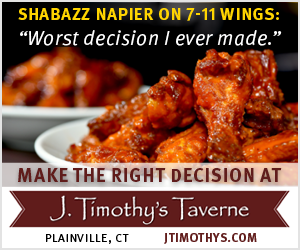 The Huskies were plus-nine in turnovers last year, their first positive turnover season since 2010. They were plus-four alone against Houston, including a fumble and an interception that set up short field goal drives (the best kind of field goal drives!), and Jamar Summers' game-ending pick deep in UConn territory on the final drive.
Meanwhile, UConn's front four was stout against the run, allowing linebackers and safeties to swarm ballcarriers. An excellent spread-running team, Houston had just 3.3 yards per carry that day, the UConn defense's fourth-best effort of the season (behind Tulane, Missouri and Villanova). CBs Summers, Jhavon Williams and Javon Hadley were excellent, keeping their receivers in front of them and avoiding any major mistakes. It was just about the perfect blueprint for the Bob Diaco defense.
UConn spent all of last year executing Diaco's bend-but-don't-break philosophy, anchored by a disciplined and disruptive line led by amazing large man Foley Fatukasi, supported by a pair of excellent, now-graduated run-stoppers at linebacker (Graham Stewart) and safety (Andrew Adams), and a secondary that kept just about everything in front of them, keyed by a cornerback who had a game-changing season (Summers).
That philosophy was executed about as well as could be reasonably expected last year, as the Huskies – aided by a slow tempo, some turnover fortune and relatively good red-zone outcomes – allowed just 19.5 points per game, an improvement of more than ten points from the dreadful 2014 season. It didn't always work: there was the BYU game in which Tanner Mangum took advantage of soft coverage to throw for 365 yards, or the USF and Cincinnati games in which the defense was manhandled and run over.
But on aggregate, the defense was good enough to win games on its own and/or keep UConn close in five of their seven losses. By the advanced numbers, UConn had somewhere in the neighborhood of the top 50-60 defenses in the nation last year, a huge jump from 2014, and almost entirely the reason why UConn played in a bowl game.
And while only six starters return from that unit, there's reason to expect the Huskies will at least match last season's performance (their 4.4 yards per carry allowed, for example, isn't a world-beating number) if they can stay healthy.
The strength of the defense figures to be at linebacker, as it has been in so many seasons. Junior Joseph was excellent at middle linebacker last year, while former walk-on fullback Matt Walsh developed quite nicely a season ago. He's impressed Diaco so much that the coach called him "a great defender of the mission" earlier this week during a speech about Batman, a completely normal sentence.
Interestingly, Florida State transfer E.J. Levenberry is listed as a backup on UConn's opening-week two deep despite being a highly-touted prospect who saw playing time at FSU; he certainly will get snaps early on in the season, according to all reports. Vontae Diggs appeared in 11 games a season ago and put himself atop the depth chart by the spring game.
The defensive tackles could be very strong, with Fatukasi ranking as possibly the best player at his position in the AmeriCon, and 325-pound behemoth Mikal "Michael 'Mike Myers' Myers" Myers having been a rotation player over the past two seasons. Fatukasi was unblockable at times last year (see above photos of him clowning a BYU dude en route to literally devouring a quarterback), leading the team in sacks and just generally outplaying most of the offensive lines he faced. The depth at D-tackle isn't great, but Foley is a legitimate playmaker at the position and it should be fun to watch him own some players on the teams we hate.
While UConn's pass rush was not terrific last year, it did get to the quarterback 21 times, its best total since Don Brown had a bunch of future NFL players flying around like maniacs in 2012. Mostly, it seemed like the job of the Husky defensive ends last year was to stay disciplined, setting the edge and containing any outside runs an opposing offense might try. Luke Carrezola (6 sacks, 45 tackles), Cole Ormsby (2 sacks) and Cam Stapleton (2 sacks) all return at DE – all can line up as hybrid end/linebackers in certain formations – after earning quality playing time last year.
And then there's the secondary, whose returning players all had strong seasons, obviously highlighted by Summers (eight INT, two shy of the school record), but also with Jhavon Williams chipping in seven passes broken up and three picks, and Obi Melifonwu cutting out the big plays he gave up as sophomore and becoming a reliable run-stopper at safety.
Whether Anthony Watkins and Brice McAllister can equal the production of the excellent Andrew Adams – who led the team in tackles last season at strong safety – is questionable; Diaco likes them, because they remind him of the Green Lantern probably, and they're young enough that they'll have time to become impact players, but this (along with depth behind Melifonwu) is clearly the weak link of the secondary.
UConn's defensive strategy is clear, and thanks to Diaco's commitment to play younger players beginning with his arrival here, the 2016 Husky defense has continuity and depth. It's not improbable that UConn could be a legitimate top-40 in the nation defense this year, which would be fabulous in point prevention if the Huskies attempt to play at the same slow pace. But they'll need last year's turnover numbers to remain positive, while getting improved production from the defensive line and a couple of young safeties quickly working through their growing pains, to maintain what they built last season.