UConn lost its season opener on Friday night for the first time in 17 years — its first opening loss at home since 1963 when coach Fred Shabel's Huskies were beaten by Yale in the old Fieldhouse.
So, not ideal.
In their 67-58 loss to Wagner, we saw a demonstration of the worst-case scenario for the Huskies — detailed in our season preview series. Each area of concern, each expected flaw, manifested simultaneously. Let's bullet point and power through this:
UConn's rebounding was awful. Wagner grabbed 11 offensive rebounds. Kentan Facey, expected to be the Huskies' best rebounder, was badly outplayed. With Mamadou Diarra sitting out due to knee soreness, coach Kevin Ollie eventually ran out of options when all of his post players disappointed simultaneously.
Related: the lack of rebounding sabotaged UConn's speed advantage. The result was a torturously slow tempo. Ollie said he wants 18 fastbreak points per game (I'd prefer 48, but ok). The Huskies finished with 13.
The defense was bad despite some positive numbers. UConn held Wagner to 26.9 percent shooting in the second half (just two made two-point field goals). That didn't really matter however, as the Huskies continuously got lost switching off screens and closing on shooters. Wagner's nine made threes were essentially the difference in the game. Including the New Haven exhibition, this is now two early season examples of the Huskies struggling to defend the arc. That's a really good way to lose college basketball games — especially to smaller opponents.
The offense was really bad. The numbers bear this out (35.7 percent shooting, 6-19 from three), but was even more obvious in watching the Huskies' legitimately awful shot selection. Three-point shooting is going to be a problem this season. That sucks, but it's a weakness that can be mitigated by effectively moving the ball, pushing the tempo and getting to the foul line. UConn did none of that. They were 14-47 from two-point range (a shockingly bad output), and attempted only 16 free throws. General rule, if you're going to miss a bunch of two-pointers, you damn well better get to the foul line while doing it.
Where the stars at? Jalen Adams struggled his way to nine points. His 4-15 shooting performance was tough to watch. Bad performances happen. That's why you have more than one scorer, in UConn's case, Rodney Purvis. Unfortunately, Purvis was even worse than Adams, scoring only five points and missing four of his five three-point attempts. It was Purvis's worst game since the infamous Houston affair last season. Here's a bold prediction: UConn isn't going to win a whole lot of games when neither Adams nor Purvis score in double-figures.
Purvis was bad. Facey was bad. How about the third senior, Amida Brimah? He was bad. While managing to secure five rebounds, he should have had twice that total. The smaller Wagner frontcourt really embarrassed Brimah in the paint. He caught two exciting lobs from Adams in the first half, but was otherwise unusable on offense. The Huskies are going to lean heavily on young players this season, but that can only work if the seniors provide enough stability to account for the ebbs and flows of the typical freshman season. The opposite happened on Friday. Veterans have to step up.
Get the band out of the damn student section. Just when you think the UConn athletic department has run out of ways to punish its ticket-holding students, they get creative and find a new spectacular method of demonstrating just how little they value their home-court advantage. Impressive, really.
That was cathartic. How about some good stuff?
There were three bright spots.
Terry Larrier looks as good as advertised. He was UConn's best player on Friday, contributing team highs with 19 points and seven rebounds. He also made three three-pointers, which is a nice sign, especially if the guards are going to struggle from deep all season.
Freshman Alterique Gilbert, UConn's chosen point guard of the future, may be the point guard of the present. The offense was exponentially better with him on the floor. He scored 14 points on 5-8 shooting and got to the line for five free throw attempts. If UConn's post players can't contribute on offense, Gilbert needs to be on the court as much as possible in three-guard lineups. Purvis should also consider himself on notice. We're not too far removed from Ollie replacing Purvis in the starting lineup with an up-and-coming freshman. Another bad performance or two, and we could see history repeating.
Christian Vital was impressive. It wouldn't be surprising if he emerges as UConn's best perimeter defender by the end of the season. He reminds me of Terrence Samuel, minus a little bulk but with a nicer shooting stroke.
- Advertisement -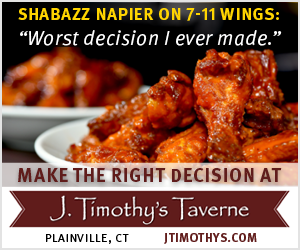 It will be interesting to see how Ollie adjusts from this loss. Wagner's not a bad team, but they're also not significantly better than most of UConn's early-season opponents. Is there such a thing as a wake up call in the first game of the season?