Last year, UConn defeated Georgetown, its old Big East rival, in Hartford.
On Saturday in Washington D.C., the Hoyas returned the favor, coming back from a 14-point deficit to win by three when Jalen Adams' last second three-pointer rimmed out.
It was a heartbreaker for UConn, to be sure. But, unlike its previous losses this season, the Huskies actually played fairly well. This was a very winnable game that they let slip away.
UConn shot well, going 45.1 percent from the floor, 44.4 percent from three and 78.9 percent from the charity stripe. That's not a stat line that typically accompanies a loss. But despite the strong numbers, there was a roughly four-minute stretch where things went very, very wrong.
With 16:37 left in the second half, UConn went up 43-29 on a Rodney Purvis layup. Four minutes and 26 seconds later, the score was tied 45-45. During that span, UConn committed four fouls, gave up three turnovers and got exactly one defensive rebound and no offensive rebounds, while missing two of only three field goal attempts. Georgetown, on the other hand, made five of the EIGHT shots they got, which included making four-of-six threes, because they got all the damn rebounds. And that, as they say, was that.
- Advertisement -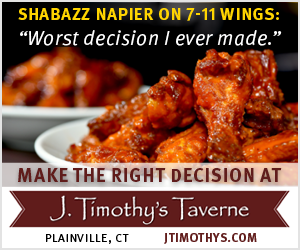 Georgetown out-rebounded UConn 36-26, a stat not helped by the fact that Amida Brimah basically didn't play in this game.
Brimah had maybe his worst game ever, fouling out in only six minutes. No, that is not a typo. He did manage to get three points, three rebounds and a block in that time, which only underscored the importance of him remaining on the floor. Brimah's relegation to the bench was especially disappointing considering UConn has looked reinvigorated in recent games when it started getting shots in the paint, and losing the ultra-effective lob-to-Brimah move for the entire game was a deal breaker.
Kentan Facey continued his impressive play, but needed to be more involved on offense. He attempted only one shot in the second half. The same was true of Vance Jackson. When he gets his feet set, that three-point shot is working. But despite going 4-6 from the floor and 3-4 from three in the first half, he only took three second half shots. Jackson's offense is quickly rising to meet his potential, but he shied away from some open looks when UConn really needed some scoring help. His defense also still needs work.
Late in the game, in an attempt to slow Georgetown's hot shooting, Kevin Ollie was forced into making offense/defense substitutions with Jackson and Christian Vital (whose defense has been quite good, but who is currently a liability on offense). It didn't work. As one of the smallest guys on the floor, Vital was out-rebounded even when he had good positioning. With Brimah on the bench, UConn could have used a strong rebounding effort from Jackson, who only had one in the game. So, you know, work on that, too.
I don't want to sound too negative, because this actually was not a bad game – especially in the scope of this season as a whole.
The biggest positive for UConn was that Jalen Adams continues to play out of his mind, and has really started to figure out the Kemba/Bazz I'm-just-gonna-take-this-shit-over thing. Adams had 22 points (17 in the second half) and nine assists, going 7-14 from the floor and 3-5 from three. He was getting great penetration, and either taking it all the way to the hoop or dishing it off to an open teammate.
UConn also managed to get the free throw line later in the game, and did, in fact, make their damn free throws for once, so there's another thing that's good.
While it's never easy to endure a loss to a rival — especially with a blown second half lead — UConn was still a Jalen Adams three away from sending the game into overtime (and isn't that just the story of our lives). If that shot goes in, and UConn wins in OT, Husky fans would feel a whole lot better as the team descends back into its conference schedule.
Fortunately for those fans and the team, the AAC is very bad, and 69 points is going to win most of those games. While a win at Georgetown would have been a nice addition to the beating-former-Big-East-rivals-in-meaningless-games trophy cabinet (hi, Syracuse), the postseason fate of this team still depends on winning a few games in Hartford in March. That was as true before the Georgetown game as is it is after.
While it's not a whole lot of fun to suffer through a sub-.500 season (I still think they can even out the record by the end of conference play), the Huskies continue to build up the pieces necessary for the long run. Jackson and Steve Enoch are improving by leaps and bounds, and the team as a whole continues to show improvement. The goal from here on out is to play the next game better than the last one and hope that the ghost of the Whalers delivers some good luck in Hartford [very spooky version of Brass Bonanza plays ominously in the background].
So buckle up, kids, it's going to be a bumpy ride.