I first started going to UConn women's basketball games when I was 12, during the 1993-1994 season. My best friend's family got season tickets, and I was often the lucky recipient of the fourth in the set when her brother didn't go.
I remember Adrianne and I racing into Gampel the moment our tickets were ripped, hours before the games started, so we could secure some coveted seats at half court or behind the UConn bench. Yes, this was so far back in the dark ages that there was no assigned seating for season ticket holders. It was first-come-first-served for every seat in the lower bowl.
I remember the time we spotted a couple seats a mere two or three rows behind the bench, and we snuck over to have the chance to watch Geno Auriemma coach up close. This was, of course, the family section, but we were oblivious to the side-eyed looks we were getting at the time because we were this close to Jen Rizzotti and Rebecca Lobo.
Growing up as female athletes in Connecticut, a scant 20 minute drive from campus, the UConn women's basketball team was very, very important to us. I was a terrible basketball player, but Ade was actually really good. We used to play in her driveway, and I always lost at HORSE and I never could get the lay up quite right. (I got real good at D-ing up, though!) Before UConn, there were no female athletes for us to look up to. So it was something special when everyone's favorite player switched from Larry Bird to Jen Rizzotti. Suddenly, 21 was the coveted uniform number in rec basketball instead of 33.
Geno and CD were already 144 wins in when I became a fan of the team. In those early days, you could only see the team if you were physically in Gampel. Then CPTV started showing the games on TV and everything changed. After UConn won its first national championship in 1995, knocking off then-powerhouse Tennessee, people really started paying attention to women's basketball. When UConn played Tennessee in a regular season matchup, CBS televised it nationally. And everybody in Connecticut watched it. But that was only a prelude for what was to come.
- Advertisement -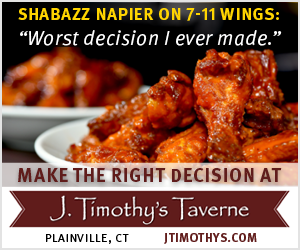 I've been following this team for more than two decades now. The players have gone from people I idolized, as Rizzotti and Lobo were, to my fellow students, as Sue Bird and Diana Taurasi were, to the kids we love and support now. It's been a long and satisfying relationship.
So when Peter texted me last week, suggesting we snag some tickets to last night's milestone game, it wasn't a hard sell. "We aren't going to want to miss this one."
He was right, of course. As novelty $1,000 bills with Geno and Chris Dailey's faces on them floated from the rafters of the Mohegan Sun Arena, after UConn dispatched a feisty Oklahoma team, we were on hand to celebrate an accomplishment few coaches have ever achieved (and Geno reached 1,000 faster than anyone else).
We've got another piece on ADB today with all sorts of fun facts and stats about this ludicrous stretch of success. But numbers can only tell you part of the story. The other part is the years of joy and triumph we all experienced vicariously with this team. It's also the incredible role models that this program has produced for young women and young men in Connecticut. It's no surprise that there have been no scandals, no stories of bad behavior from the young women under the watchful eye of Chris Dailey. Geno and CD expect perfection, and they do not tolerate less.
This team has been easy to love. UConn women's basketball fans see the players as an extension of their family, feeling equal parts proud and protective. Connecticut is a small state, with no professional sports franchise. While our loyalties split during football and baseball season, we come together in our love of Connecticut basketball. UConn is a family, and it's one of the things I treasure most about my experience there as a student. So it was no surprise to see the video messages from fellow coaches including Jim Penders and Nancy Stevens, or to see Coach Emeritus Dee Rowe in attendance. And it was lovely – and unsurprising – to see the players from Geno's first season, and many seasons after, make the effort to be in the house for this win, but also to see the love the former players have for the current ones. It was like watching a family reunion, big sisters hugging little sisters.
We're so incredibly lucky to be a part of this historically successful team, even just as observers. I try to enjoy the moments as they come, because I know too well that nothing lasts forever. One thousand wins is an milestone only a handful of coaches will ever reach. So it was a privilege to be one of the fortunate few who were able to see it in person. One more beautiful memory to tuck away with so many others.
So congrats to Geno and CD on their 1,000th win. I'm sure they've already turned their attention to the next one, but I plan to revel in this one just a little longer.