It's #MailWeek at A Dime Back. The men are off until the weekend and you folks are just salivating for content, so we're going to answer your best (ish) mailbag questions one at a time, giving longer answers than you'd find in our normal Friday feature. You can submit your questions here or on Twitter (@ADimeBack).
---
Don asks: Give us a starting 5 of UConn transfers based on their post-UC production/stats. call it the "What-If Team"
I hope it doesn't surprise you to learn that this "what if" team is bad. With the notable exception of the great exodus of 2012 (thanks, Mark), most of the players that have transferred away from UConn did so because they weren't good enough — or did not have enough opportunity — to play for the Huskies.
That said, several have experienced at least moderate success at their second schools. Let's meet the starting five.
Guard: Sam Cassell, Jr. — Iona
- Advertisement -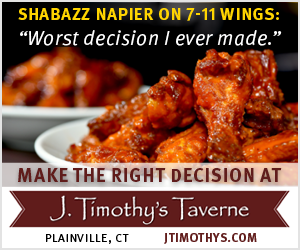 Sam the Second has benefitted from a gigantic increase in playing time this season, using the opportunity to launch over ten shots per game for Iona. His scoring has jumped accordingly — now at 11.3 points per game.
Guard: Scottie Haralson — Tulsa
Remember Haralson? He was billed as a sharp-shooting high school recruit that struggled to put the ball in the basket for UConn in 2009. He transferred to Tulsa soon after where he rediscovered his shooting stroke, burying threes at around a 38 percent clip over his final three seasons, averaging double-figure scoring in each.
Forward: Scott Hazelton — Rhode Island
Hazleton always appeared to have the natural ability to succeed at the college level but didn't show it until five years after his original commitment to UConn. He averaged 15.5 points and seven rebounds for a truly awful Rhode Island team in 2005.
Forward: Roscoe Smith — UNLV
Roscoe fled UConn when the NCAA Tournament ban was introduced. He was forced to sit out a year, joining a UNLV team that ironically missed tournament play while the Huskies cut down the nets. Whoops. In Vegas, however, Smith grew into one of the nation's best rebounders, averaging a double-double with 11.1 points and 10.9 boards per game.
Center: Alex Oriakhi — Missouri
Nothing sets off UConn fans faster than reminiscing about Oriakhi's transfer so we'll rush through this paragraph and tell you that he averaged 11.2 points and 8.4 rebounds per game on a mediocre Missouri team.
BENCH
Guard: Marcus Johnson — USC
Certain internet personalities were adamant that Johnson jump Haralson on this roster, and that's why Johnson is on the bench despite averaging 7.2 points over two seasons at USC.
Guard: Rob Garrison — Niagara
Like Cassell, this is a cool example of how a player overmatched at a high-end school can carve out a nice career in the MAAC. Garrison averaged 10.7 points over two seasons at Niagara.
Forward: Doug Wrenn — Washington
Wrenn was an absolute madman. After running afoul of Jim Calhoun, Wrenn transferred to Washington where he was one of the top scorers in the Pac-10 in 2002, averaging 19.5 points per game — accompanied by 6.4 rebounds. He scored in double-figures the following year as well. Despite his talents, Wrenn will best be remembered for the criminal charges that following his collegiate career.
Forward: Marcus White — Purdue
White was a bit player at UConn, lingering on the bench behind several high-profile big men. But during his senior year at Purdue in 2006, White averaged 10.1 points and four rebounds per game. The Boilermakers went 9-19 that season.
Forward: Curtis Kelly — Kansas State
You could also make an argument for Kelly over Smith. After leaving UConn after the 2008 season, Kelly had a strong finish to his career at Kansas State, averaging 11.1 points and 5.9 rebounds per game over two years in the middle of nowhere.
Center: Ajou Deng — Fairfield
The greatest that never was, had one good season at Fairfield, averaging 13.7 points and 8.1 rebounds in 2002 before struggling the following year and ending one of the most disappointing collegiate careers of any UConn recruit.