Last night, Alex Oriakhi was selected by the Phoenix Suns in the second round of the NBA Draft — officially ending the collegiate career of one of the most polarizing players in UConn history.
Oriakhi started 39 games his sophomore season — including 11 straight victories culminating in UConn's third National Championship. Playing alongside Kemba Walker, Oriakhi was the team's second-best player — its best during the title game against Butler, where Oriakhi dominated with 11 points, 11 rebounds and 4 blocks. It was an incredible high point, both for Oriakhi and the university.
The honeymoon didn't last long. During the offseason, Oriakhi's best friend and high school teammate Jamal Coombs-McDaniel was all but booted from the team following a marijuana arrest. When the season started, Oriakhi saw his minutes and production sacrificed to accommodate star recruit Andre Drummond — culminating in Oriakhi losing his spot in the starting lineup, which he deemed "sum bs [sic, obviously]," in a twitter conversation with Coombs-McDaniel.
Oriakhi never adjusted to his diminished role. He couldn't coexist with Drummond in the paint, or with the shot-happy backcourt of Shabazz Napier and Jeremy Lamb. His minutes dropped. His production dropped. His attitude soured. And he quit.
With UConn facing a tournament ban, and the relationship with coach Jim Calhoun irreparably frayed, Oriakhi announced his intentions to transfer to Missouri for his senior year. The transfer itself would have been enough to enrage UConn fans — really an unprecedented situation in modern UConn history — but it was when Oriakhi's father got involved that things got really ugly.
- Advertisement -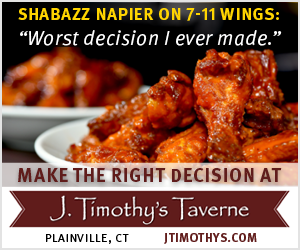 In a comment on the Hartford Courant web site, Alex Oriakhi Sr. blamed the coaching staff for his son's struggles. The remarks followed a disheartening pattern where both Jr. and Sr. seemed completely unwilling to accept any fault in the situation. Poor play? Coach's fault. Bad attitude? Coach's fault. Disappointing record? Coach's fault.
All of the above set off a fire in UConn fans that already permanently reside on the tipping point. There is a deep-seeded little brother complex engrained in UConn fans that stems from the days of playing second-fiddle to the Georgetowns  and St. John's' of the eighties. The "us against the world" mentality — really born by Jim Calhoun himself — has helped push the program into national prominence, but has also created an atmosphere where the competition rarely ends.
With that said, it's time to let it go. Oriakhi was 21 years old when he decided to leave UConn. Did he handle it poorly? Yes. Did it hurt they way he torched the bridge on his way out of Storrs? Yes. Is his father an insufferable fool who hurt his son by handling things so unprofessionally? Definitely, yes.
But did Oriakhi make a wrong decision by leaving UConn for Missouri? Probably not. This may be hard to hear, but Alex Oriakhi did not owe UConn anything. He arrived, he played, he won and he left. There is one more banner in the rafters of Gampel Pavilion because Alex Oriakhi played at UConn. From a professional standpoint (and let's be honest, college basketball is as much a profession as anything else), it was in Oriakhi's best interest to get out of Storrs.
Shabazz Napier was a stark example of how low the spotlight shines on a lame duck basketball team. Napier's play during the lost season was inspired, brilliant and heroic. Yet, nobody saw it happen. NBA scouts routinely had Napier slotted for the late second round (ironically right around Oriakhi). Almost anyone who watched Napier play knew the rankings were overly pessimistic, forcing Napier to make the easy decision of returning to Storrs where he could build his brand, hopefully leading to better prospects after his senior year.
Essentially, that is what Oriakhi did. By leaving UConn for Missouri, Oriakhi guaranteed himself an audience for his play. That opportunity would not have been available at UConn — a seemingly ridiculous scenario that was born out of very unique circumstances. Also, unlike his fellow transfer-mates Roscoe Smith and Michael Bradley, Oriakhi was free to play immediately for Missouri. He slid right into their starting lineup and played a key role as they made the NCAA Tournament. Although his play was decidedly mediocre, from a business standpoint, it's easy to argue that Oriakhi made the right career choice by leaving UConn.
It's time to let it go. We live in an age where college basketball is a business. While the fans run full of school pride — bleed blue, if you will — the unpaid collegiate athletes that provide free labor for the universities have a responsibility to themselves and their families more so than the programs that profit from their skills. It is hypocritical to hold Alex Oriakhi in eternal fault for treating UConn as a disposable career opportunity when that's essentially how UConn (and most high-level college programs) treat disappointing players like Oriakhi's pal Coombs-McDaniel.
In a perfect world, Oriakhi stays in Storrs. He averages a double-double for new coach Kevin Ollie and leaves UConn remembered more like his predecessor Jeff Adrien than the pariah he is today. But college basketball is far from perfect and so are 21 year old kids. I think we can all agree we'd rather not be permanently judged by the actions of our 21 year old selves.
With that said, it's time to wish Alex Oriakhi luck and congratulate him on being drafted — an accomplishment itself that most high school prospects never know. UConn is better off for him having played there. As they say, flags fly forever.