Bob Diaco put it better than any writer could have, which is why I kept my comments short on Saturday and let him do most of the talking.
Diaco took blame for the ugly 28-20 loss to South Florida at home that severely damaged UConn's bowl chances. His play calling was questionable. He said he didn't have his defense prepared. And up and down the roster, the Huskies just were not good enough.
Still, I find some of the reaction to this game to be truly puzzling and troubling.
The man inherited a program in shambles — one that had started the previous season 0-9 with a loss to FBS Towson and a 41-12 smack-down at Buffalo. Still, he was confident in his introductory presser and said that the winning would start now — if not on the field, then in the attitude of the program. And he stayed true to that. He changed the culture immediately, instilling a sense of pride in his players. His optimism never wavered, even when those outside the program mocked him.
- Advertisement -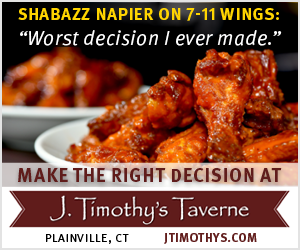 All of that translated into a 2-10 first season in which he lost his starting quarterback after one game and got blown out by a winless SMU team to end the year.
Needless to say, the "it better work this time" attitude of the fan base was justified coming into this year. But what did you expect? A 10-2 season? 9-3? 8-4? That's foolish. Diaco is not a magician. He was mocked on media day when he said he expected his team to go undefeated, but isn't it nice to hear someone with confidence in his team?
That's what I want from a coach. I want someone who believes in his guys and will prepare them every week with the mindset that the game is winnable. No moral victories. Maybe that's why he has made so many bold, albeit second-guessed, calls this year. He has the confidence that the Huskies can convert. And guess what? It's a helluva lot more fun than an overly conservative coach who is afraid to give his players a chance to shine.
Does the Diaco method always work out? No. But the overall tide has started to turn and we've seen it. We saw it when the defense clamped down and held Missouri to only nine points on the road. We saw it when UConn was tied at BYU going into the fourth quarter. And we saw it when UConn destroyed UCF in the ConFLiCT two weeks ago.
UConn is 3-4 right now. Two years ago, it was 0-7. Last year at this time, it was 1-6.
The record is better and the team is loaded with promise. Bryant Shirreffs has been imperfect but competent at quarterback, which is something fans have not seen in some time. Arkeel Newsome is establishing himself as one of the top running backs in the American. Noel Thomas has handled his role — and the praise Diaco heaped on him at media day — admirably. Sophomore Alec Bloom at tight end and freshman Tyraiq Beals at wide receiver have both become serious options for Shirreffs, who will have the luxury of working with the core of this offense over the next couple years.
This is still not a good football team, but the future is getting brighter by the day. Fans need to see the bigger picture, rather than getting bogged down in short-term failures.
Diaco messed up on Saturday. A few times. So did other guys, like Jazzmar Clax, who was called for a costly excessive celebration penalty. Or Shirreffs, who should have thrown the ball away at the end of the first half instead of giving it to Newsome to run down the clock deep in USF territory.
The roster is young and so is its coach. Be frustrated with the loss, but understand that the long-term plan is still on track. This is the coach we have. Stick with him.