Bringing an end to a bizarre recruitment, five-star wing Hamidou Diallo committed to Kentucky on Saturday evening. UConn recruited Diallo heavily, and was briefly seen as the favorite last month when news broke that Diallo was eligible to play the second half of this season.
While that was true, Diallo has taken that option off the table, according to reports. He will instead practice with the team this semester, and take classes, with intentions to begin playing for the Wildcats next year. Diallo will be eligible for this June's NBA Draft, and may still declare and — at least — test the waters.
UConn had been courting Diallo for the better part of two years. Coach Kevin Ollie and his staff hosted Diallo and his Putnam Science Academy (Putnam, CT) teammates at a myriad of home games, and had Diallo on campus for an official visit last month. Mamadou Diarra, a close friend and former teammate of Diallo's is on UConn's roster, but is redshirting due to knee injuries.
Diallo is the third Northeast recruit in the last three years to head to pick Kentucky over UConn, joining Isaiah Briscoe and Wenyen Gabriel.
The Huskies still have at least two scholarships available next season and several significant roster needs — amplified by the uncertainty of key players returning from serious injury. Makai Ashton-Langford (four-star guard) is the current jewel of the incoming recruiting class. Tyler Polley (four-star) and Josh Carlton (three-star) will add depth to the front court. Ollie and his staff will continue to search for a center to pair with Steve Enoch and a wing who can take some of the scoring load off of Jalen Adams.
- Advertisement -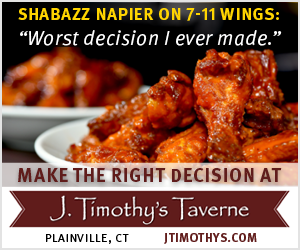 Diallo would have fit that role perfectly. And, in the midst of a disappointing season, UConn fans could have used some good news.