Over the course of the next few weeks, we will be examining some pressing issues facing the 2013-2014 UConn Huskies as the new season approaches. Today, we'll expand our cultural horizons with one of UConn's foreign-born players. So far we've covered UConn's big men.
***
Last week, we began our season preview series with a glass half-empty view of UConn's men in the middle. Because the true centers on the roster leave much to be desired in terms of rebounding and interior defense, the best hope for progress may mean more responsibility for 6'7″ senior forward Niels Giffey.
Giffey emerged as a fan favorite last season. Always a hard worker, his talent began to show when given significant minutes. While his individual statistics are hardly mind-blowing, Giffey has a penchant for filling in the gaps left by his teammates.
- Advertisement -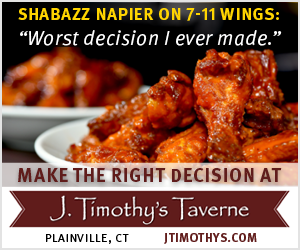 Fun fact: Giffey and DeAndre Daniels were the only two UConn players to grab 10 or more rebounds in a game last season (Daniels did it three times).
Giffey is also UConn's toughest defender. As a consequence to often lining up against bigger opponents, he has developed a toughness that is evident on the court. He once said he trash talks opposing players in his native German — which, frankly, sounds terrifying.
For worse or worse, UConn will not be facing the same caliber of opponent in the inaugural season of the AAC as they are accustomed to from a generation in the Big East. While Cincinnati will surely throw some haymakers, and Louisville (for one year only) will bring back memories of days of old, there are no more Pittsburghs to bang bodies in the paint like monster trucks for forty minutes a game. Hell, even the referees — terrible as they were in the Big East — will almost certainly call a version of the game that dissuades AAC teams from bludgeoning each other.
With that in mind, Giffey brings an element of diversity to UConn's game. He can spell Calhoun — creating a nightmare matchup for the opposing swingman. He can replace Olander and give the Huskies five legitimate three-point threats on the court at once.
While Giffey himself is not a remedy for the woes of UConn's front court, he should continue to see his minutes rise as coach Kevin Ollie experiments with a new lineup for a new brand of basketball.
Completely Crazy Predication:
Giffey makes the AAC all-defense first team
Poll:
Sorry, there are no polls available at the moment.