Bob Diaco is not going to save UConn football.
In a rather shocking morning-after-Christmas announcement, UConn athletic director David Benedict has relieved head football coach Bob Diaco of his duties, effective Jan. 2.
"I believe a new leader for our program and student-athletes is needed to build long-term success," Benedict said. "I am grateful to Coach Diaco and his staff for their hard work and the integrity with which they ran the program and certainly wish them future success."
"This is obviously not the way I had hoped things would turn out, but I appreciate having had the opportunity to be here at UConn," said Diaco. "I thank the administration, staff and fans of the UConn Football program for their passion and support over these three years. Most importantly, I want to say how much I love the players on this team and will be rooting for their success. I know that there are great things to come for all of them."
Read the full release here.
The move comes three full weeks after UConn's trainwreck 2016 season ended with a blowout loss to Tulane in front of family and friends at Rentschler Field, but the timing is likely explained by the nature of Diaco's $5 million buyout — a number that drops to $3.4 million after Jan. 1, assuming the two sides haven't negotiated a lesser sum.
The Huskies did not manage a winning season in three under Diaco, the 2012 Broyles Award winner for his success as a defensive coordinator at Notre Dame. After a 2-10 season in 2014, Diaco and UConn managed a remarkable turnaround in 2015, improving to six wins (including a memorable upset of undefeated Houston in late November) and earning the school's first bowl appearance since the 2010 Fiesta Bowl.
- Advertisement -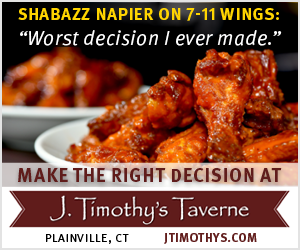 Sixteen starters returned from that team, and expectations were raised that UConn would, at minimum, reach a second straight bowl game. Instead, after a promising start obscured by a baffling play call at the end of a narrow loss to Navy, the Huskies regressed into one of the nation's worst teams in 2016. UConn lost its final six games to finish 3-9, scoring 16 points combined over the last four — a stretch that included embarrassing shutout losses to Temple and Boston College.
From Day 1, Diaco was a smooth talker who said the right things, a constant salesman of a program that needed one. He appeared to be very earnest in doing what he felt needed to be done to rebuild a flagging UConn football program from the ground up. But as 2016 dragged on, Diaco's words seemed to become ever-more-untethered to reality, alienating an already skittish and dwindling fanbase. The same coaching blunders, both in offensive/defensive strategy and clock management, seemed to be repeated on a weekly basis.
And the final tally — an abysmal 11-26 overall record, 6-18 in conference, plus an incoming recruiting class ranked 108th in the nation (and dead last in the AAC) — was enough to sink Diaco.
UConn football faces some existential questions with its next hire as it undergoes its second total rebuild in three years. David Benedict's task is to find someone who can improve recruiting, play a brand of football that fans and alumni want to watch, and, obviously, win.
This is a difficult place to do all of that, but not an impossible one, given the proper level of support. Benedict removing Diaco after season three is at least one sign that the AD understands that, financially strapped athletic department or no, a change needed to be made. Let's hope the next step can be so encouraging.