UConn redshirt junior and all-around great dude Rodney Purvis has told ESPN he will be removing his name from the NBA draft and returning to school for his final year of eligibility.
One more!!!!
Sincerely, Purv 🙏🏾😎📞 pic.twitter.com/wpV3ZrgaTX

— Rodney Purvis (@rpurvis44) May 6, 2016
This is big news for the Huskies, who will already be without three of their top four scorers from this past season, following the departures of Sterling Gibbs, Daniel Hamilton, and Shonn Miller. Purvis, who averaged 12.8 points on 43 percent shooting (39 percent from three), figures to be the go-to player on offense for Kevin Ollie's squad next year, at least at the start of the season, and should form a dynamic backcourt with sophomore Jalen Adams.
- Advertisement -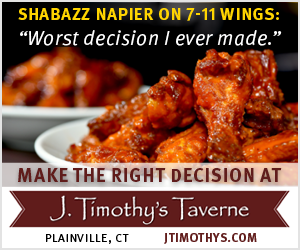 Purvis did not receive an invite to the NBA Combine, making a spot in the draft unlikely, but still could have gone pro by playing in the NBA Developmental League or moving to a top European league, where he'd likely find a lucrative job quickly. Apparently, Purvis decided that such an opportunity could wait until next year.
Given his age, it's unlikely that Purvis improves his stock enough to get into the first round of the 2017 NBA draft next year, but if he makes a big jump with his ball-handling the way he did with his shooting this year, that could change. An AAC Player of the Year award and a long run in the NCAA tournament could go a long way to securing a better future for Purvis.
As for the Huskies, this puts to bed the big worry about next year's team – that they would be short on guards – and leaves the Huskies with 11 players on the roster (provided Amida Brimah also returns). The Huskies have no clear needs going into next season, but Kevin Ollie may continue to pursue 2016 freshman and grad transfers to fill out the roster.