After a few weeks off to mourn UConn having to play in the same conference as East Carolina, we're back with a family sized serving of mailbag.
Remember: If your question wasn't answered or you've been living under a rock and are just hearing about this, you can submit your questions here or on Twitter (@ADimeBack).
---
@G15629091 asks: Do you see the big east being an elite hoops conference for the next 50 years or do you think their dominance will slowly die out?
It's impossible to predict because the landscape of college sports has changed so dramatically in the past 10 years alone. In fact, President Alex Cohen will probably sign an executive order banning football (a sport that should already be illegal) as soon as he takes office in 2028. Although I'm firmly on the "go back to the Big East" train, I am unsure about where this conference will be down the road. There's no doubt that the Big East is elite today. It's the third-best conference in the country per KenPom, as it was last year, as it was the year before. The problem is that the Power 5 conferences are making much much much much (repeat much a few more times) more money. That might not be a problem today, but as the Texases and Kentuckys of the world pile up the cash, they can offer so much more to potential recruits. It'll add up. That's why I'm not convinced that the Big East is sustainable long-term.
But here's the other side to that: The P5s also have to fund their football programs, which is a humongous expense. That's fine for the schools that are successful because football is profitable. That's a huge problem for programs that are not. It's why calling football a moneymaker for UConn is absurd. Whatever UConn is bringing in from its football program, it is spending far more. And why? To chase a P5 invite that will probably never come? In hopes that the next TV contract from the American is somehow miles better than it is now and makes this whole thing worth it? There's no evidence that it's going to happen, no matter how many POW6R promos the conference runs. If UConn wants to go all in and keep trying to make its football program profitable (and nationally competitive), then they should stay put and throw money that they don't have at the problem. There's just no indication whatsoever that it's going to work and UConn is sacrificing its basketball program to try and make it happen (say what you will about Kevin Ollie, but it's true: being in the American has murdered fan interest and made it 100x tougher to dig out of the holes the coach or others may have put them into).
- Advertisement -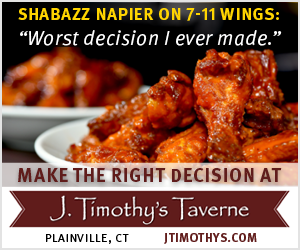 So to answer your question: the Big East is great now, and while I don't know about the future, I do think it's the best option for saving the program that gave UConn its name.
---
Don asks: how long, and in what capacity, until we see Danny O on HCRE's staff?
There's been a lot of talk about football's favorite son taking a gig on his former coach's staff. Dan O has expressed his interest in coaching at UConn on Twitter, so we know he's down for it. However, UConn recently posted the listing for the OC job (since closed/removed), and Orlovsky is missing one major stated requirement: five years experience coaching at the FBS level. Orlovsky is an experienced QB who clearly knows the game (seriously, check out the man's Twitter, he's breaking down QB play and all sorts of football intricacies, and my dude knows his shit), and he recently finished his degree, which would be necessary for coaching at the collegiate level. He just hasn't actually coached before.
My dream scenario is UConn hires an experienced OC and Dan O becomes our QB coach. Give him a couple years to learn about creating an offense, recruiting and all the vagaries of coaching in college and then he'll be ready to take on the OC gig. He's obviously got a great football mind and he's a smart guy, not to mention his love and support of UConn and his relationship with Edsall. Having someone of his pedigree (in-state recruit with a long NFL career) on our staff would be great for the program, if for no other reason than it's a reminder that we have successfully sent dudes to the league. And, really, who doesn't want Dan O and his ludicrously adorable family back in CT full time?
---
Ben asks: Will Rhett Lashlee leaving lead to de-commitments?
The good news is: everyone who had verballed to UConn while Lashlee was on the coaching staff signed their NLOI during the new early signing period in mid-December, so they're kind of stuck here for the time being. (Exploit-tastic!)
Players who really really loved Lashlee could theoretically transfer — remember just-graduated Indiana QB Richard Lagow, who committed to UConn in 2013, saw the coaches who recruited him depart the school, then stuck around five months before announcing his transfer 10 days before the season? — but that can also happen at any time, for any reason. If there's been any indication that any players are considering an immediate move because of Lashlee, I haven't heard it.
If I had to offer some completely non-informed speculation, I'd say that keeping Georgia QB Steven Krajewski in the fold might be a concern. Krajewski was Lashlee's highest-profile recruit and he cited the coach as one of the biggest reasons he came here. We can only hope that Edsall's relationship with him is just as strong, but UConn's probably gonna wanna nail this OC hire, though, just to be sure.
---
Brian asks: Why doesn't the MBB press core push Ollie harder for questions to what's wrong with the program?
This is an interesting question because it's kinda dumb, yet I'm not insensitive to the underlying motive. You're upset and want people — who you can't directly influence — to be held publicly accountable. That's fine. What answer are you expecting from Ollie though? An "I fucked up," moment would be entertaining, and probably pretty satisfying, but it's not coming. Ollie isn't going to say aloud that his players aren't very good, or that he and his staff are incapable of implementing a functional offense. Yet we've managed to establish both of those facts without Dave Borges scolding Ollie from the front row. It would also be professionally stupid. Reporters are dependent on Ollie continuing to speak with them (even in confucian riddles) and on UConn continuing to credential them.
---
Bryan asks: Does Ray Allen call Denzel Washington dad when he sees him these days?
I don't know what Jesus Shuttlesworth is calling Denzel these days, but I'm more than happy to call him Daddy.
— Meghan