In a nice, easy, palette cleansing win, UConn beat North Florida (yes, they play three directional Florida schools this year) 80-59 on Sunday afternoon.
The victory pulled the Huskies back to .500 on the season at 5-5. Although the game itself was somewhat forgettable, it was critical as UConn struggles to overcome injuries and an awful start to salvage its season.
Here's what we learned (or not).
1. Oh, hi, Kentan Facey. The senior forward picked a nice time to have his best game as a Husky. With 20 points, nine rebounds and four blocks, Facey was undoubtedly the best player on the court on Sunday. Perhaps more importantly than the raw numbers, the Huskies also handled North Florida's zone defense by relying on Facey in the middle.
So, now can we get greedy? Is Facey's success sustainable? As we suspected going into the season, the numbers show Facey as the team's best rebounder (5.8 per game; 15.4 TRB%). That should remain true as long as he can stay on the court. The key will be his contributions on offense. Facey is an efficient scorer (64.4 TS%) but is reticent to force the issue. Backup center Steve Enoch attempts more shots per game than Facey despite playing significantly fewer minutes. What is clear is that the Huskies are a much more dangerous team with Facey playing up to his potential.
- Advertisement -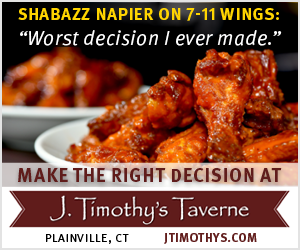 2. Christian Vital continues to be a pleasant surprise. It's weird to think that UConn is likely a UNLV coaching change away from having Sam Cassell Jr. as its starting point guard right now. Vital was brought in to be the handyman guard — getting some playing time while filling in the gaps in the backcourt. Instead, he's emerged as an important contributor on both ends of the court, and now looks like he could become one hell of a four-year player at UConn.
He scored 13 points against North Florida, and tortured the opposing guards on defense, yielding a team-high three steals. After enduring a recent three-point slump, he made both of his attempts from deep. The key for Vital will be remaining a net positive on the court when his shot isn't falling. He's been doing that with his defense, but he needs to improve on facilitating on offense. While not necessarily as scripted, a lot of responsibility lies with Vital at the moment. It's been fun to see him rise to the occasion.
3. Offensive issues remain. Hey look, a dead horse! UConn currently ranks 295th in Sports-Reference's Pace rating and 285th in KenPom's tempo. It's tempting to forgive the slow pace as a byproduct of having no depth, but running is still the Huskies' best chance to succeed on offense. Related: they rank 238th in total rebound percentage. They've been out-rebounded on the season and it's had a detrimental impact on their offense. Stop me if you've heard this before. To top it off, the team is 276th in true shooting percentage. At 32.3 percent from three and an unfathomably bad 62 percent from the free throw line, it's not exactly surprising that UConn has struggled to score points this season. (The guards are also still struggling to get to the free throw line.)
4. Go to Brimah more? The solution to some of those offensive woes in the halfcourt may be to get Amida Brimah more looks on the block. Brimah scored 11 points against North Florida on 5-5 shooting. He's always been an incredibly efficient — yet still maddening — offensive player, largely because he's most likely to be attempting shots within five inches of the rim. Brimah will probably set the UConn record for career field goal percentage (currently 66.5 percent), and draws fouls more effectively than anyone else remaining on the roster. Though he's been incredibly bad from the line this year (45.7 percent, what??), that rate isn't in keeping with his aptitude (82.4 percent last season; 62.7 percent career). At this point in the season, it's at least worth getting Brimah more looks on offense and seeing what happens.
5. Nice to see the walk-ons. If we're being real, this might've been the Huskies' last chance to get their walk-ons some burn. While Mike Noyes (#BringTheNoyes) earned the annual Kevin Ollie's Unused Scholarship, he still counts as an emotional walk-on. He played one minute of action on Sunday, as did Christian Foxen, Restinel Lomotey and Omotayo Aiyegbusi. Always fun to add new names to the UConn Almanac.
6. Offensive diversity. For the first time this season, the Huskies ran a competent offense without relying on the three-pointer. They attempted only nine threes in the game, by far their lowest total of the season (previous low: 17 against BU). Vital and Rodney Purvis each made a pair. The scouting report on UConn is pretty obvious at this point: take away transition opportunities, play them zone in the halfcourt and make them shoot jump shots. The Huskies were able to combat that on Sunday, mostly because Kentan Facey killed North Florida from within 12 feet of the basket, but also because the guards (particularly Jalen Adams) did a much better job of not settling for outside shots.
7. Offensive balance. Speaking of Adams, it was refreshing to see him get half a day off. Sure, he played 37 minutes, but he only attempted eight shots, finishing with 13 points — one of five Huskies in double-figures. As brilliant as Adams has been at times this season, he can't pull this team into the NCAA Tournament single-handedly. The team needs balance to steal wins, especially with conference opponents looming. There's no doubt that Adams is the star of this team, but any success UConn has this season will be dependent on his teammates contributing alongside him.