You're not going to hear this much at A Dime Back, but here we go: come and beat the Huskies.
Over three decades at UConn, but perhaps never more than in the last four years, Geno Auriemma has helped raise the bar in women's college basketball. Now he's waiting for some people outside Connecticut to join him.
We've attacked the "UConn's dominance is bad for the game" fallacy over and over and over again. And the "Geno gets all the good players" lie. The goal here isn't to defend women's basketball or shut down the haters. It's to point out that if the game is really going to grow, it's time for everybody to climb aboard. Not just the team that's won four straight titles.
So let's pretend all that "bad for the game" nonsense is true for a minute. Let's pretend that the 2015-16 UConn Huskies killed women's basketball by bringing in the 12 best players in the country as freshmen and systematically destroying every opponent in their way over the course of four years until no one cared anymore.
As dumb as I feel for even having typed that, it could help for other coaches and players to pretend the above is true. It lowers expectations and takes the pressure off.
- Advertisement -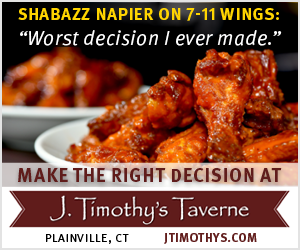 Unfortunately for them, they're out of excuses.
Breanna Stewart, Moriah Jefferson and Morgan Tuck have all played their last game in Storrs. There will be 12 schools next year with more All-Americans on their roster than UConn (by comparison, this year there were two and neither of those teams made the Final Four). If the Huskies win the 2017 national championship, it will again be because Geno Auriemma is the best in the country at getting the most out of his players. This time, no amount of willful ignorance would possibly be able to keep that fact in the shadows.
To Auriemma's credit, he has done everything he can to help other programs, short of intentionally sabotaging his own.
He makes himself available to other coaches for advice. He is constantly out there advocating for the game. He even opens his practices to other coaches so that they can see how they're run.
The reality, however, is that the man who has done it all can only do so much.
There are coaches who seem to want to emulate UConn. After the Huskies demolished Mississippi State, 98-38 in the Sweet 16, Bulldogs coach Vic Schaeffer made his vision for his program clear.
"The challenge for the rest of us is to compete," he said. "I want my team to chase [UConn]. That's the next step to me for us. I want to chase that team."
Then there's Oregon State coach Scott Rueck, who said he's used UConn as inspiration from the time he was a Division III coach at George Fox. He led the Bruins to a 32-0 national championship run in 2009, before taking over with the Beavers in 2010-11. In his first season in Corvallis, his team went 9-21. The next year, they won 20 games. Two years after that, they were in the NCAA Tournament. Now, they've just finished the best season in school history, ending with a loss to the Huskies in the national semifinal on Sunday.
That is not to say that the only way to find success in women's basketball is to emulate UConn exactly. But if the model for perfection exists, why wouldn't you want to copy it?
"I think it's up to the rest of us to rise to that level," Rueck said of UConn's success. "And I think any time you have a bar that's that high, that's a positive."
Will Mississippi State, Oregon State or anyone else ever achieve the dominance that UConn has? Probably not, and that's not the point. The point is that they're striving to get there. There's no reason to expect any team to win 75 straight games or four straight national titles. But if you're running a program, there's also no reason to not work tirelessly with the goal to one day do just that.
Now that this super-team is ready to move on from Storrs, it's time to see who is ready to take on that challenge, because UConn is not going away.
"This is a race and I'm not slowing down," Auriemma said. "You have to get faster."
So that's it. Tired of seeing UConn win all the time? Beat them.