As all devoted readers of ADB surely know, this weekend is a big one for UConn sports. The football team is playing at the Rent Saturday at 3:30 p.m. with bowl eligibility on the line (Tickets are still available!). The men's basketball team is also in action on Saturday, playing in Gampel at noon against Furman (Also, tickets still available).
But they're not the only teams playing this weekend, so here's your guide to all things UConn Sport.
The two-time reigning National Champion field hockey team is playing in the NCAA Final Four this weekend. The No. 3 Huskies face No. 2 Syracuse in the National Semifinals tomorrow at noon in Ann Arbor, Michigan. You can stream the game here or follow along on Twitter: @UConnFHockey
Women's soccer had a season-high five goals against Sienna in the first round of the NCAA Tournament on Sunday. Junior Stephanie Ribeiro lead the team with five points, racking up two goals and an assist. The team plays No. 3-seed Notre Dame tomorrow at 4 p.m. in Piscataway, N.J. Follow @UConnWSOC on Twitter for updates.
With their 3-1 win over Boston University today, UConn men's soccer advances to the second round of the NCAA Tournament, where they will play  No. 16 Indiana in their quest to win their first national championship since 2000. The game will be played Sunday at noon in Indiana. Follow @UConnMSOC for updates.
- Advertisement -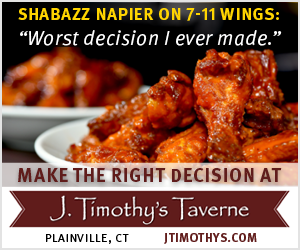 Women's basketball will (probably) be destroying Kansas State Monday night at the XL Center. Tip off is 7:30 and you can buy your tickets here.
Tuesday night #IceBus is taking on BC at the XL Center. Last year's game was wild, and the hockey team is trying to win its first game since defeating BU on Oct. 27. I was there for that win, and will be back in attendance Tuesday, so lets assume they can't win without me there. You can stream the game here, but you should really come hang out with me and 5,000 of your closest friends. Some tickets remain.