1. The Deets.
UConn lost 64-60 at Ohio State. The Huskies are once again below .500 at 4-5. Welp.
2. Game MVP.
Jalen Adams, who used a strong first half to lead all scorers with 19 points.
3. Turns out having players is helpful.
UConn played without freshman Juwan Durham, who couldn't travel due to a bout of the flu. The Huskies' roster issues are laughable at this point. They played only seven men on Saturday, none fewer than 18 minutes. At one point, Rodney Purvis was playing power forward, which should tell you all you need to know about the current state of UConn's roster.
4. [Extreme Oprah voice] You get a foul! And you get a foul!
The Huskies were called for 27 fouls on Saturday. With the aforementioned seven man roster, that means each eligible Husky averaged 3.9 fouls against him. That's silly on paper, and was infuriating on the court where the referees found every nitpicking opportunity to blow the whistle on the Huskies. It would have been slightly more tolerable if the calls happened on both ends of the court, but Ohio State was called for only 12 fouls in the game and attempted a crazy 25 more free throws than UConn — the teams also shot roughly the same amount of two-point field goals. But…
5. Some of that is UConn's fault.
Let's play this down the middle. The officiating was awful and one-sided. But UConn could have helped itself by forcing the issue more, especially in the second half. With a thin roster, the Huskies need to do a better job of evening the odds by getting their opponents into foul trouble. This team has a bad habit of falling in love with the three-pointer, and adjusting too slowly when they aren't falling. This team is extraordinarily easy to guard when they're going 3-13 from three after halftime.
6. Flip the turnovers.
- Advertisement -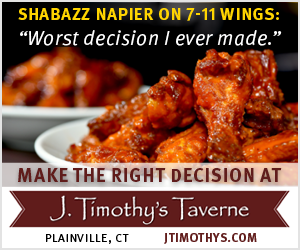 The Huskies committed ten turnovers in the first half to Ohio State's three. At a time when Ohio State couldn't really defend UConn, who shot 54.2 percent in the half, it was infuriating watching the Huskies give away so many possessions. The second half featured a more reasonable disparity: six to four. UConn gets somewhat of a pass considering their starting point guard is out of the season, but they are nowhere near good enough on either end of the court right now to be giving away possessions.
7. Remember blocked shots?
In addition to not forcing turnovers, the Huskies did not block a single shot. Amida Brimah went without a block for the first time in 22 games. If Ohio State could shoot (34 percent from the floor, 2-18 from three without a single make in the second half), UConn would have lost by 20.
8. Pick your spots.
Yes, things get out of whack when bench guys are seeing huge minutes, but that's not a good excuse for adopting poor strategy. The game plan at the beginning of the season — run; let Adams and Purvis score as often as possible; and get Brimah dunks — doesn't need to change. UConn gets away from those core principles too easily. Christian Vital took six three-pointers. Unless he has NBA Jam style flames shooting from his palms, that's not a good idea. In fact, Vital has missed his last ten attempts from deep and is just 4-21 over the last four games.
9. Kevin's Kourt
Late in the second half, with UConn needing to foul to extend the game, Kevin Ollie was so mad at Vital for not fouling in the backcourt that he stomped his way to the three-point arc to yell at him… while the game was still going on. It was genuinely wild to watch, and is legitimately shocking he did not pick up a technical foul. We all remember Stack Of Paper Gate at Madison Square Garden a year ago and how that untimely tech changed the game. Settle it down, boss.
Up Next:
After a week off for finals, UConn returns to Gampel (where the Huskies are 0-2 this year) to take on North Florida on Sunday. Tip is at 1pm and the game is on SNY.