UConn continued it's warm streak on Thursday night, beating Memphis 65-62. It was the Huskies' third consecutive win and their sixth in the last seven games. For the first time this season, UConn is now over .500 (13-12).
Take it away with some takeaways!
1 Jalen takes over.
Jalen Adams went kinda nutty in the second half, scoring 17 of his 19 points after the break. This game was emblematic of Adams' importance. UConn limped into halftime down 14 points after a rough start from Adams (1-6 from the floor). When he got it going, it lifted the performance of his teammates, sparking a furious comeback and an eventual win. It remains bewildering that Adams is able to take over games without getting to the free throw line (only two attempts on Thursday), but points on the board are points on the board.
2 Christian Vital continues his hot streak.
- Advertisement -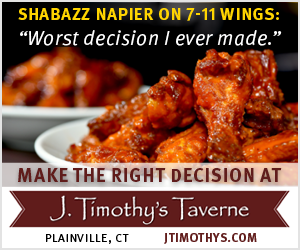 Vital was UConn's best player in the first half, and came up huge down the stretch as the Huskies took — and held on to — the lead. Vital has now scored in double-figures in six straight games (the first Husky freshman to do so since Jeremy Lamb in 2011). His three-point shooting on the season has crept up to 36.9 percent (43.5 percent in AAC play). And his on-ball defense has improved as he gains more experience.
3 Defense stepped up.
The Huskies forced nine Memphis turnovers in the second half, and held the Tigers to 8-24 shooting (2-12 from three). The UConn guards — Adams, Vital and Rodney Purvis — played very well collectively down the stretch (minus a rough two-play blip from Adams). Great defense on the final two possessions from Vital, Purvis and Kentan Facey sealed the win for UConn.
4 Fell behind big again.
Of course the win is the only thing that matters, but it's worth mentioning that UConn let Memphis build up a gigantic 17-point lead in the first half. It was a continuation of a problem that has dogged UConn all season, and one that will absolutely end its season in a few weeks if they let a good team get too far ahead in tournament play.
5 Lack of focus.
The Huskies — generally — are prone to lapses in focus and questionable judgement, often exploited by opponents for the aforementioned big runs. On Thursday, these lapses presented as poor defense, lazy passes and some truly dumb fouls in the first half. At this point in the season, these are mistakes that shouldn't be happening. It's nice that the Huskies are able to overcome them, but with limited depth and a depleted talent level, the team can't be needlessly giving away possessions.
6 Where y'all at?
Sure, Thursday night at 9pm is an awful time for a basketball game. Sure, it's stupid that you'd have that late of a start in an arena 35 minutes from campus when the students have class the following morning. And sure, UConn hasn't been must-see entertainment for much of the year. But 9,631 fans for one of the few meaningful conference games on the home schedule is sad. Since the inception of the AAC, Memphis has provided more entertaining games than any of UConn's conference mates, and the fans still aren't interested. With only two more home games on the schedule, and the Huskies playing well, the fans still aren't interested. It's not good, especially as the lobbying for an XL Center renovation gains volume.
7 AAC Standings.
UConn now sits in 4th place in the AAC. As our bud TCF has laid out for you, that would currently mean a quarterfinal matchup with 5-seed Memphis in the AAC Tournament. You can make your own decisions as to who you'd like the Huskies to face on that Friday, but with five games left, there is still plenty of time to move up (or down) in the standings.